The hardest aspect of daily blogging is coming up with the inspiration for each post. Sometimes the ideas just come from elsewhere, like magic.
Greetings from Australia, Mark. - I am a chess player and published poet, who likes to be rather incognito. If you like my chess poems below, feel free to publish them on your blog or wherever. - Good wishes from Bob Cowley.
No need to embellish the poems with unnecessary verbiage. Here is the first one.
Chess
pieces dance
in changing patterns;
drama, intrigue and mystery
for those who know
Since the web is a visual medium, I needed an image. This is a suitable task for Creative Commons.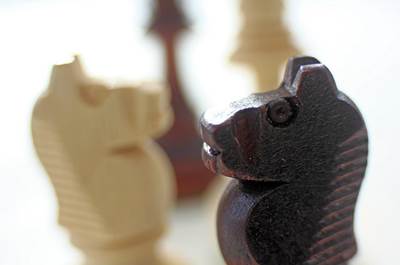 Opposing Pieces © Flickr user Kate Russell under Creative Commons.
My Australian correspondent sent three poems. Here are the other two.
Good chess players
can their clarity
at the board
pierce life's fogs
away from it?
they wonder also

Veteran chess
too old to play well?
the abyss looms -
but wait;
a lucky escape
and maybe persistence
can still find treasure
Last week, in 'On Anderssen', I used a 19th century German poem to make a point. Poetry, like photography, is amazingly versatile.