It's time to take a checkpoint on a subject introduced in Chess Obsessed (May 2019). I wrote,
Back to that 'Chess in the Movies' page, I created it sometime around 2005. It might be worthwhile to survey images I've collected since then and, if I have enough examples, add another sub-page on the same topic.
The referenced page is Chess in the Movies, and so far, without any real effort, I found 152 photos to work through. The following composite shows the first eight (ordered according to my internal file naming convention, which is random).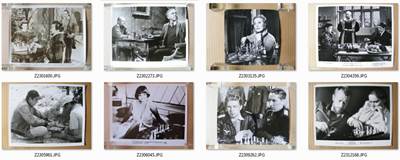 Top row: (info from the text accompanying the photo)
1940 The Sea Hawk ['Chess in the Movies' different scene]
1958 Fraulein.
1963 Il fornaretto di Venezia (aka The Scapegoat)
1962. Walt Disney's Wonderful World of Color; Episode: The Prince and the Pauper - The Merciful Law of the King
Bottom row:
1970 Flap [behind the scenes shot]
1972 Rat' mal, wer heut bei uns schlaft... (aka The Swinging Pussycats)
1957 The One That Got Away
1970 The Passion of Anna (aka En Passion)
Out of the eight photos, six are usable. The first one on the top row, '1940 The Sea Hawk', is a repeat, and the first one on the bottom row, '1970 Flap', is a behind the scenes shot. If the percentages hold up -- which I have no way of knowing -- I have around 110 usable photos. Since a new 'Chess in the Movies' sub-page requires 24 photos, I have enough material for four new pages. That is on top of the three pages I already have.
Another aspect to consider is how I name foreign language films. I currently have both
La Vérité (The Truth, 1960) and
Brainwashed (Schachnovelle, 1961)
In the samples above, I have at least three foreign films: French, German, and Italian. Which should be the main title, the English version or the original version?