There's a chess story getting attention this week: Lewis chessmen piece bought for £5 in 1964 could sell for £1m (theguardian.com).
A small walrus tusk warrior figure bought for £5 in 1964 -- which, for years, was stored in a household drawer -- has been revealed as a missing piece from one of the true wonders of the medieval world with a possible value of £1m.
I've often wondered whether the Lewis pieces were indeed chess pieces. First, I wanted a good photo of a complete set, but discovered that most of the available photos are replica Lewis chess sets. The British Museum has some excellent photos of the original pieces, e.g. Image gallery: The Lewis Chessmen, but the best image I found was an old illustration.
H.J.R. Murray, 'A History of Chess' (1913/1962, p.760-761)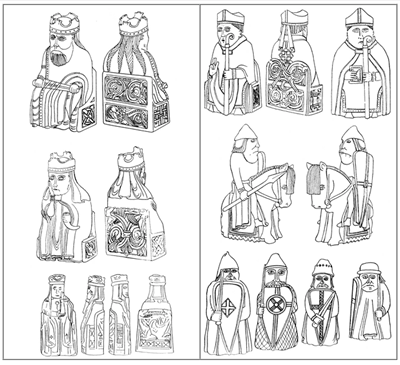 (Left) Top row: King; Bottom rows: Queens
(Right) Top to bottom: Bishops, Knights, Rooks
Murray introduced the topic with a summary of the pieces' discovery.
The Lewis chessmen were discovered in 1831 in a sand-bank at the head of the Bay of Uig, on the west coast of the island of Lewis, one of the outer Hebrides. There is no circumstantial account of the discovery, but it appears that they were found in a small chamber of dry-built stone, resembling an oven, about 15 feet below the top of the sand-bank.

The chessmen were exhibited by Mr. Roderick Ririe at a meeting of the Society of Antiquaries of Scotland, April 11, 1831, but before the members had raised the money to purchase them Mr. Kirkpatrick Sharpe stepped in and bought 10 of the pieces, while the remaining 67 chessmen, 19 tablemen, and a buckle were bought for the British Museum.

On the dispersion of Mr. Sharpe's collection, the Lewis chessmen, now 11 in number, Mr. Sharpe having obtained another one from Lewis, were purchased by Lord Londesborough, and at the sale of the latter's collection in 1888 they were purchased by the Society of Antiquaries for the Scottish National Museum.

All the game-pieces, as well as the buckle, are carved of walrus-ivory. The 78 chessmen comprise 8 Kings, 8 Queens, 16 Bishops, 15 Knights, 12 Rooks, and 19 Pawns, of which 2 Kings, 3 Queens, 3 Bishops, a Knight, and 2 Rooks are now at Edinburgh.
Not everyone believes that the pieces are chess pieces. Geoff Chandler explains,
At an unknown date, an unknown ship is sheltering from a storm in a bay on the Isle of Lewis. Onboard, an unknown cabin boy seizes his chance to escape from the ship, sneaks into the Captain's cabin, steals a sack containing 128 carved walrus pieces (four chess sets) and swims ashore. [...]
That excerpt is from Not Even From Lewis, Mate (textualities.net); 'I am totally convinced the "Lewis Chessmen" are not chess pieces'. Chandler calls them 'gaming pieces'. If he's right, would they still sell for £1 million?