I've seen these cards many times on eBay, but I never thought they were suitable material for Top eBay Chess Items by Price (March 2010). It just proves how little I know about collectibles.
The auction for the card on the left was titled '1888 N162 Goodwin Champions Steinitz CHESS PSA 4 VGEX (PWCC)'. It sold for US $1009 after 14 bids from 10 bidders. The card on the right, '1888 N162 Goodwin Champions Zukertort CHESS PSA 6 EXMT (PWCC)', sold for $1525 after 21 bids from 11 bidders. Both cards had a starting price of $0.99.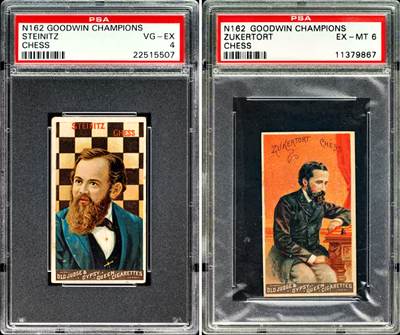 The codes 'PSA 4 VGEX' and 'PSA 6 EXMT' in the titles indicate their grades. There is more information about grades on, e.g., 1888 Goodwin Champions (N162) Steinitz Chess (psacard.com). The code 'PWCC' in the title is the name of the auction house.
The backs of both cards list other 'Champions' in the series. There are three chess players : the two shown here plus 'Capt. Mackenzie', George Henry Mackenzie (wikipedia.org).