The title of this month's selection for Top eBay Chess Items by Price (March 2010) was 'Old ~1930 Franz Bergmann Vienna TWO DWARFS PLAYING CHESS Cold Painted Bronze'. I would have used 'TWO DWARVES PLAYING CHESS' (although with CAPS off), but according to Wiktionary's entry for Dwarf, it's not so simple:-
At first, dwarfs was the common plural in English. After J.R.R. Tolkien used dwarves in his works, that form became the standard for the plural of the mythological beings. For a non-mythological dwarf (people with dwarfism), dwarfs has remained the preferred plural form.
Whatever plural form is preferred, the piece attracted only one bidder. It sold for US $699.99 'Buy It Now'.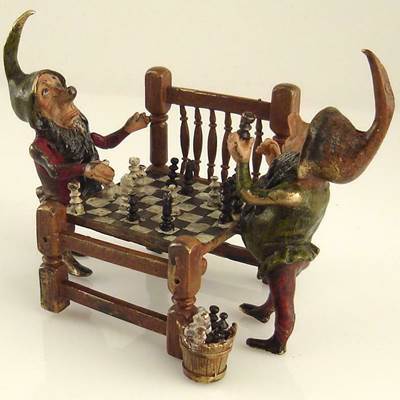 The description added,
I had the chance to buy a small collection of 100% antique Vienna Bronzes. They are all pre-WW2, approximately 80-100 years old. In my opinion these are all Franz Bergmann designs, some are marked with "Austria" or the typical "Jug-Mark". Others are not marked. But also the unmarked pieces are old and original Vienna Bronze pieces. But please see pics and judge yourself. This scene is unmarked.

As these are antique objects, they may show dust, wear, paint chips, patina and other imperfections. The max. height is 77 mm (3 inches). 120 mm maximum width (a bit less than 5 inches).
For another eBay chess bronze, see The Artist and the Artwork (April 2015); 'titled "Antique Austrian cold painted bronze orientalist playing chess signed Chotka", sold for US $995 after a single bid'. For another chess playing dwarf, see Chess Mardi Gras (February 2018).