Just like clockwork, two months after the 2019 CJA Awards Announcement (May 2019), the Chess Journalists of America have announced the 2019 Entries, i.e. nominations for the various award categories (where I used the PDF version to prepare this post). For the past few years I've concentrated on my two favorite categories, 'Best Chess Blog' and 'Best Chess Art', so I'll continue the tradition this year.
'Best Chess Blog' is not the most competitive of the CJA award categories. In several recent years there have been no entries. Last year had one entry which was a single post. This year we have a full blog, First Move Chess (which I hadn't seen before), and a single post, The Day Leela Changed Computer Chess (chess.com). As far as I can tell, the first post in the full blog is dated after the deadline for CJA entries. In past years I've been crticized for pointing out facts like that, so I'll stop here.
'Best Chess Art' has been split into two categories:-
'Best Chess Art (graphic design, cartoon, other)'
'Best Single Chess Magazine Cover'
Since last year's entries were predominantly magazine covers, this year I'll summarize the six entries in the first category, shown below. First observation: chess art is alive and well.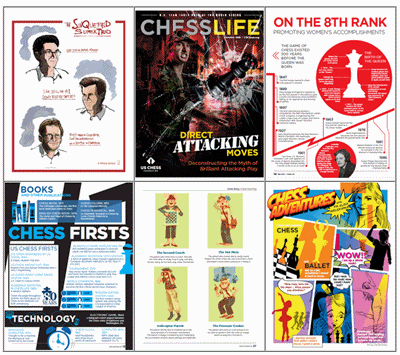 Top row:
Willum Morsch, "The Sinquefeld Super Trio"; ACM issue 8, p.34
Direct Attacking Moves; Sean Busher; CL October 2018, Front Cover
Infographic: On the 8th Rank; Natasha Roberts, Melinda Matthews; CL May 2019, p. 14-15
Bottom row:
Infographic: Chess Firsts; Natasha Roberts, Melinda Matthews; CL January 2019, p. 13
The Challenges of Chess Parenting; Carlotta Notaro; CL December 2018, p. 37-38
Chess Adventures with FM Alisa Melekhina; Val Bochkov, Melinda Matthews, Natasha Roberts; CL Kids February 2019, p. 22
The last image in the top row and the middle image in the bottom row show the first half of double-page artwork. The middle image in the top row is reminiscent of an image I flagged a few years ago in Cutting the Mustard (August 2013), as superior to the award winner that year. The two infographic entries are attributed to the same team, who are also listed against the last image.
Which entry would I vote for if I were a judge? It's hard to say. I'm not a fan of the first entry in the bottom row, which looks like a text ad for chess books, but the other five are all attractive in their own ways.
With so many categories this year, some of them highly competitive, the judges are going to have to work hard to determine the winners. We'll find out next month who those winners are, but in the meantime, chess journalism is the big winner.