Boris Spassky is perhaps best remembered by the non-chess-playing public as the Russian who lost to Bobby Fischer. This is as unfair to his record as the popular perception of Howard Staunton as the English player who ducked Paul Morphy. Spassky was a strong super-grandmaster whose greatest triumph was winning the title of World Champion in 1969.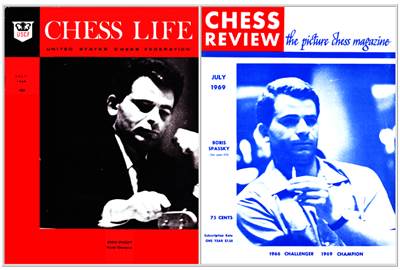 Left: 'Boris Spassky - World Champion'
Right: 'Boris Spassky - 1966 Challenger, 1969 Champion'
Chess Life
To different people, the World Championship match looked like different things. Korchnoi, for instance, said that the match was developing in waves, and he was right —- first it was Petrosian and then Spassky and then again Petrosian who was on top, and then, when the first third was over, there was a quiet sea marking the second third of the match. At the time of this writing, they stood all even at 8-8.
That was the lead paragraph of the first article on the match:-
'Observation Point' column by Miro Radojcic, 'Now or Never!'; 3 pages (w/ games 7-16)
CL carried two more feature-length articles on the match:-
'O'Kelly on the Match' by Grandmaster A. O'Kelly, Chief Match Umpire; 2.5 pages (w/ games 1-6)
'With the Champions : A Moscow Memoir' by Dimitrije Bjelica; 2 pages
Chess Review
Boris Spassky of Leningrad has won the title of Champion of the Chess World. He did so or at least clinched the title as we go to press with this issue, scoring 12 1/2 to 10 1/2 against former World Champion Tigran Petrosyan of Armenia. The twenty-fourth game may not be played.
That was the start of the first story in the flagship 'The World of Chess' section, titled 'New World Champion'. The magazine had another article later in the issue:-
'World Championship : Middle Games', Annotated by Hans Kmoch; 4 pages (w/ games 9-16)
Earlier in the year Spassky appeared on the CL side of February 1969 'On the Cover', 'the 1968 "Oscar" for best player of the year was given to Spassky', with a link to his previous 'On the Cover' appearance. July 1969 was also not his first appearance on both covers. The October 1968 'On the Cover' listed three such double features, players who appeared on the cover of both magazines for the same month:-

Spassky, September 1966
Evans, September 1968
Larsen, October 1968
Spassky's CR photo has been seen before in the June 1968 'On the Cover'. That first time it was in black & white instead of the incongruous blue used in 1969.
NB: It's worth noting that CL's Radojcic article carried a half-page trailer titled 'Nona Keeps Her Crown', about Nona Gaprindashvili's defeat of Alla Kushnir for the Women's World Championship. Even so, half of that article was about Vera Menchik.