Fifty years ago, the two main American chess magazines were only two months from being merged into a single publication. Their covers featured American chess players from two different centuries.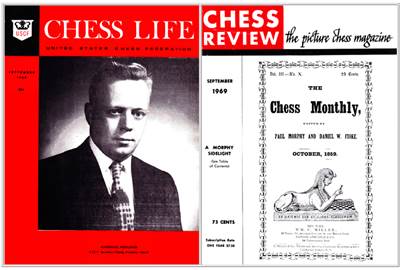 Left: 'Marshall Rohland; USCF Secretary 1956-66, President 1966-69'
Right: 'A Morphy Sidelight'
Chess Life
Presidential Report by Marshall Rohland • At the end of one's Presidency, it is appropriate and constructive to look back over the progress in USCF during the three year term, and also the preceding years. Looking back in perspective reveals a long story of struggle and accomplishment.
For a similar report from Rohland's successor (in CL November 1972), see The USCF in Numbers (June 2014).
Chess Review
A Morphy Sidelight by Manfred Zitzman • Paul Morphy! The name remains a magic one for countless chess players past, present and yet to be born. As someone has said, it is because we remember other chess greats not in the plenitude of their powers, but as dethroned champions -- bitter, disillusioned men who, more often than not, avoided their most dangerous challengers for years before they finally played and succumbed.

Alekhine, it is true, died with the World Championship still in his possession; but his twenty years of dodging a re-match with Capablanca will forever cloud his reputation. In contrast, Paul Morphy's light blazes undiminished across more than a century of time! Here there was no dodging or evasion. Morphy actively sought out the strongest challengers he could find and blasted them off the board.
The CR cover shows the October 1859 cover of 'The Chess Monthly', published almost 110 years before the CR issue. We saw the earlier magazine on this blog a few months in Five Volumes of 'Chess Monthly' (May 2019), and looked at Morphy's role in Paul Morphy, Editor (ditto). The author of the three page Morphy article also featured on the CR side of December 1965 'On the Cover' (December 2015).