Chess pieces swirling around a player's head might seem like an obvious artistic theme, but in the decade of Top eBay Chess Items by Price (March 2010), I couldn't find another example. The only artwork I found was Chess on Your Mind? (September 2009), which was itself originally from DeviantArt.com.
The painting shown below was titled 'Ricardo Maya painting abstract modernist pretty woman cubism surrealism chess'. Originally listed for US $650.00, it sold for US $552.50, 'Best offer accepted'.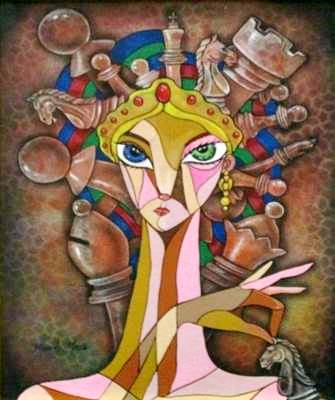 The description said,
Original Ricardo Maya Acrylic painting on canvas board. I purchased this artist direct. I am selling off my collection of his paintings, all painted over a span of years. Signed. Good condition. Measurements: Painting image size 12 by 16 inches, framed 14 by 18 inches.
A page Ricardo Maya (saatchiart.com) explains,
I'm a Cuban Painter. Now I live and work in Granada, Nicaragua. I try in own characteristic art work shows an invitation to introspection in human psychology, using the face as a focus of emotion and the body as a map of life. The pictorial composition, technique and style combine to create from abstract, figurative and ethnic, to urban and traditional where man is your source for inspiration.
That same page has many more examples of the artist's work.