As another month nears its end, we take another look at any chess stories that have been adopted by the mainstream press during the month. Last month we had A Yahoo Backstory (December 2020), and this month we have ... zilch. In fact, most months we have zilch and that's when I turn to Google News for inspiration.
This month Google News was also uninspiring. Stories about online chess were again popular, but nothing surfaced that hasn't been seen before. I decided to take a different approach. First I scraped the news screen to collect the story headlines and their sources. Then I loaded the scraped file into a database. Then I analyzed the result.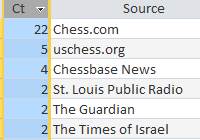 All in all, Google News listed 70 different news stories. The image on the left shows a count of the stories provided by each source, where those stories numbered at least two for a particular source. The top three sources -- Chess.com, USchess.org, and Chessbase News -- all traffic exclusively in chess news; the next three are mainstream news organizations that often follow important chess stories. Those six sources account for 37 stories, leaving 33 other sources with a single story.
Of the 39 stories coming from non-chess sites, eight were inspired by the Netflix 'Queen's Gambit' series. Only one story from the three chess sites was similarly inspired. For an example of real chess news, the chess sites had five stories about the Tata tournament at Wijk aan Zee, while the non-chess sites had four, which was more than I expected to find.
As for stories about streamers, the chess sites had three, the non-chess sites one: This chess teacher quit his full-time job to become a streamer: 'It's become [the primary source of income]' (yahoo.com). And that is a real Yahoo.
Don't forget that all of these numbers are based on what Google News considers to be top chess news. Pogchamps rated four stories, all from Chess.com (of course).