For the December 2020 edition of Top eBay Chess Items by Price (March 2010), I hoped to find some good items offered for the year-end holidays, but I came up short. The most interesting items were echoes of previous posts in the series -- like One Painting, Three Versions (October 2015; 'Jean Henri Marlet "19th game of chess match" Staunton - Saint-Amant, oil / canvas') and Niue in Chess (March 2020; '2018 Niue Chess Antiqued Silver Coin 2oz COA with REAL MINI CHESS PIECES') -- so I had to look elsewhere.
I decided to investigate a small mystery. For some time now, chess items titled 'Vintage Allan Troy...' have been consistently appearing near the top of the list, but when I looked at the details of the items I could see nothing to explain their price. The following composite image shows the top four such items appearing for December, which includes items from the last three months, back to October.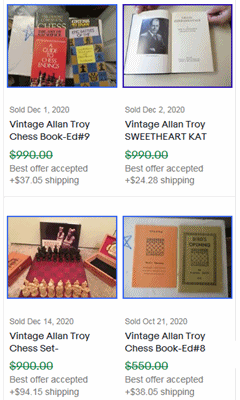 The item in the top left was titled 'Vintage Allan Troy Chess Book - Ed#9 SWEETHEART MICHELLE 2/3'. It sold for around $950, 'Best offer accepted'. The description said,
Six books: The Oxford Companion to Chess, A Guide to Chess Endings, Brilliancy Prize Games of the Chess Masters, Epic Battles of the Chessboard, The Art of Sacrifice in Chess, and Chess to Enjoy. This is a private party deal.
None of those titles is particularly rare. Next to that item is an auction titled 'Vintage Allan Troy SWEETHEART KAT', same selling price, 'Best offer accepted'. The description doesn't even mention that the item being auctioned is Capablanca's book 'Chess Fundamentals', although it does say, 'This is a private party deal', again.
Who is Allan Troy and why are his auctions so expensive? For the answer to the first question, see Allan Troy 1932-2005 (uschess.org). For the answer to the second question, maybe 'This is a private party deal' has something to do with it. See, for example, How do I make a private sale to my ebay customer? (ebay.com):-
I'd recommend listing with a high ['Buy It Now'] price and Best Offer. Unless someone takes the high BIN, you simply reject or ignore all offers except the one from the desired buyer at the agreed upon price.
Using eBay for a direct, personal transaction. Why not? Mystery solved?