It's a question that arises from time to time on this blog. Is the subject of the following photo a statue/sculpture, as in Keres' Last Move (October 2020), or something else, as in Posing for Euros (March 2017)?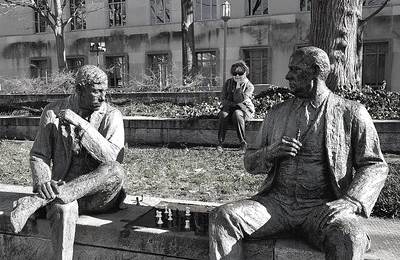 Sylvia Watches Chess Match, Washington DC © Flickr user Observe the District under Creative Commons.
The photo had no description and no tags, so no help there. The only clue was an album with the same name as the photographer, 'Observe the District'. The photos in that album were all unretouched shots of objects and places in D.C., and that was enough help to identify the players in the photo: From Wikipedia's The Chess Players (sculpture):-
The Chess Players is an outdoor 1983 sculpture by Lloyd Lillie, installed in John Marshall Park in Washington, D.C., United States.
As for the chess set, other photos consistently show the same board, pieces, and position, which are not those shown here. Have they been ripped out/off?