In last month's 'On the Cover' post December 1970 & 1995 (December 2020), I noted,
The World Chess Championship was in the news both 50 years ago and 25 years ago. Both cycles featured two of the strongest players of all time. [Fischer and Kasparov]
A month later, Fischer disappeared from the cover while Kasparov made a second consecutive appearance.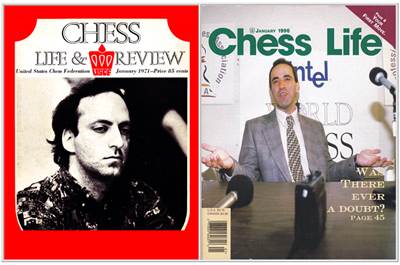 Left: '?'
Right: 'Was There Ever a Doubt?'
Chess Life & Review (50 Years Ago)
International Master Bernard Zuckerman, the latest addition to the U.S. list of international titleholders. But he doesn't resemble this photo any more -- he has recently grown a full beard. Photo by L. Kwartler.
IM Zuckerman won his title at Bari 1970 and wrote the corresponding two page tournament report. Fischer's win at the 1970 Palma de Mallorca Interzonal wasn't entirely overlooked. GM Larry Evans wrote the first installment of a three part report.
Chess Life (25 Years Ago)
A picture is worth a thousand words, and in this case, Garry Kasparov's expansive pose was also worth almost a million dollars. While his chessic preparations may not have been as high as in previous title defenses, Kasparov was certainly on target psychologically.

This was no more clearly evident than after game nine. Instead of being confident and enthusiastic after winning, Anand was heard to say, "I feel as though I've just grabbed a tiger by the whiskers." Now that is true domination.
That 'On the Cover' blurb was followed in the same column by a longer section titled 'FIDE Update'. I'm including it here because it contained a number of organizational details around the troubled FIDE World Championships that were new to me.
Xie Jun, Zsuzsa Polgar, Anatoly Karpov, and Gata Kamsky are still in limbo concerning their respective world championship matches. While no progress is reported by FIDE, Anatoly Karpov has traveled to at least four continents in search of a sponsor. He seems to have struck paydirt in Montreal. On October 25th, he gave a live video conference (he was in New York at the World Trade Center, organizer Shiloh L. Quinn was in Montreal) in which he said he was fed up with all the confusion -- especially media confusion -- concerning who is really the World Champion.

He went on to say that both Kasparov and Fischer claim to be world champions -- he called them former FIDE world champions. He recounted his 134 tournament victories, his victory over Kasparov by 2 1/2 points in Spain in 1994; he wants to re-affirm FIDE's position as the world's official chess organization. To that end, he also wants to insure the success of the Woman's World Championship by holding the Jun - Polgar match in Montreal at the same time as the Karpov - Kamsky World Championship match.

AND he offered to play Bobby Fischer a match -- under any conditions. He has even offered Fischer the opportunity to be exclusive commentator in Montreal, for the championship matches, along with "...a publishing deal he won't believe."

In addition to Fischer-Spassky II, and the formation of the PCA, we may have yet another "story of the decade." Or not. Stay tuned.
'Story of the decade'? No, it wasn't. Ask today's knowledgeable chess players, 'Who was the World Champion at the end of 1995?, and most will answer, 'Kasparov, of course'.