The previous post in Top eBay Chess Items by Price (March 2010), was Not Typical of This Artist (February 2021). I wrote, 'In this long-running series it's been nine months since we last saw a painting.' Now we have two in a row.
The item pictured below was titled 'Original Signed Morris Berd Chess Player Watercolor Gouache Painting'. The eBay search result said, '$799 or Best Offer'; the item listing said, 'Sold for US $799'. I've never understood why eBay presents this ambiguity about the price, but so it does.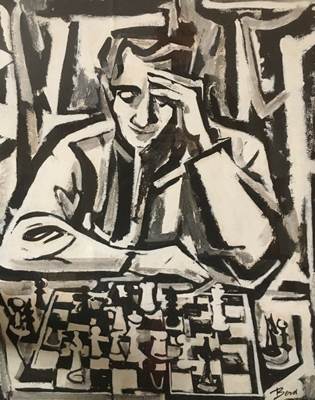 The item description said,
Signed Morris Berd, "Chess Player", Watercolor Gouache Painting. It's in the original frame. Untouched. Overall size including the frame. 19 1/2" by 25 1/2", visible painting size is 17 3/4" by 24"
The artist has a biography at Berd, Morris - Woodmere Art Museum (woodmereartmuseum.org; Philadelphia). It starts,
Morris Berd (1914 - 2007), born in Philadelphia, PA, was a longtime instructor at his alma mater, the University of the Arts [Philadelphia] and a mentor to several generations of Philadelphia artists.
In 2019 we learned, Philadelphia Named Chess City of the Year (uschess.org; by Jennifer Shahade): 'The city of brotherly love was singled out this year for a number of reasons...' The first reason was, 'Philadelphia is home to some of the most important Open events on the calendar, such as the World Open, the Philadelphia Open, the Liberty Bell Open and the National Chess Congress.'