In last month's post, February 1971 & 1996 'On the Cover' (February 2021), we saw that 'international chess was in the U.S. chess spotlight so many years ago'. This month the spotlight returns to U.S. chess.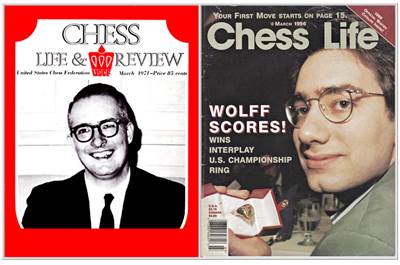 Left: ?
Right: 'Wolff Scores! Wins Interplay U.S. Championship Ring'
Chess Life & Review (50 Years Ago)
International Grandmaster Robert Byrne, winner of the 1970 American Open in Santa Monica, California. Photo by Beth Cassidy.
This is at least the second use of the same Byrne photo in CL. Another was seen in October 1966 'On the Cover' (October 2016).
Chess Life (25 Years Ago)
Serving on Viswanathan Anand's team of seconds certainly did not hurt Patrick Wolff's game. He tied for first place in the 1995 Interplay U.S. Championship with Alexander Ivanov and Nick de Firmian. He won the playoff competition for possession of the Championship Ring, designed by Heraldica Imports, which sponsors the $100,000 New York Open every year.

We are very fortunate to have Interplay Productions as the main sponsor for both the Interplay U.S. Championship, and the Interplay U.S. Women's Championship. Interplay's enthusiastic support led to an exhibition match between Patrick Wolff and Anjelina Belakovskaya (who tied for the Women's title with Sharon Burtman), which was won by Wolff, +1-0=1.
Looking backward, the 1996 side of last month's 'On the Cover' featured the Kasparov - Anand match. Looking forward, I found a Larry Evans story, Grandmasters Disenchanted with USCF (sun-sentinel.com [cached]; October 1996), that informed,
The 43rd USA Championship quietly came and went last July. Few people heard about it until it was over. Once again 14 stars competed for our highest title in an obscure location with scarcely any advance publicity. Defending champ Patrick Wolff declined his invitation because he is entering law school. In an article initially rejected but later published in Chess Life, a journal of record, he scolded the U.S. Chess Federation for not showcasing its premier event.
As for Interplay, in its page on Interplay Entertainment, Wikipedia informs,
Interplay Entertainment Corp. is an American video game developer and publisher based in Los Angeles. The company was founded in 1983 as Interplay Productions [...] Interplay started publishing its own games, starting with Neuromancer and Battle Chess, in 1988, and then moved on to publish and distribute games from other companies, while continuing internal game development.
And for Battle Chess, Wikipedia explains,
Battle Chess is a computer game version of chess with animated three-dimensional graphics. It was originally developed and released by Interplay Entertainment for the Amiga in 1988 and subsequently on many other systems, including [...] In 1991, Battle Chess Enhanced was released by Interplay for the PC, featuring improved VGA graphics and a symphonic musical score that played from the CD-ROM. Battle Chess was critically acclaimed and commercially successful, resulting in two official follow-ups as well as several inspired games. Its remake, Battle Chess: Game of Kings, was released on Steam on December 11, 2015.
The Wikipedia page on the U.S. Chess Championship gives limited space to the many early sponsors of the event. Only sponsors since 1999 are mentioned.