We've already seen chess ouside the Paris museum Musée de Cluny (March 2013; 'In courtyard at Musée de Cluny'); now let's go inside. That post quoted Wikipedia's description, 'The Musée National du Moyen Âge', which translates to 'National Museum of the Middle Ages'.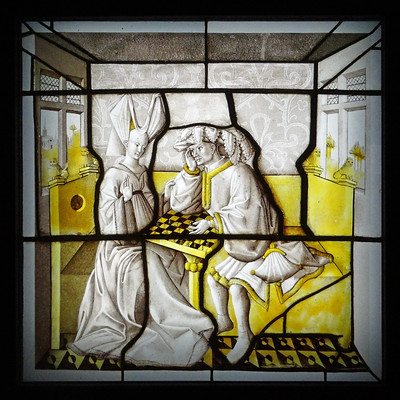 Vitrail : les joueurs d'échecs, 1450; Musée de Cluny © Flickr user Pierre under Creative Commons.
The photo had no description, so we're forced to rely on the title. In English it translates to
Stained glass window : the chess players, 1450
The museum's web site has a page on the exhibit titled, Chess Players : Musée de Cluny. It says,
This panel of civil stained glass, produced in the 15th century, comes from the Hôtel de la Bessée in Villefranche-sur-Saône. [...] Though very popular among the cultivated aristocratic elite, few examples of civil stained glass remain today. • Height: 54.2 cm; Width: 54 cm
By 'civil stained glass', I understand stained glass outside of a church setting. The exhibit is also mentioned in Paris in Spring (chess-museum.com), which is a report on 'The 17th CCI [Chess Collectors International] World Convention - Paris, 2-6 May [2016]'. The page says,
In Cluny we not only found some well known chess sets of medieval origin, but also the fabulous glass window showing a lady playing chess with a gentleman of the times. [...] Superb scene of an amorously tinged chess game, beautfiul details -- window background, headgear, the checkered floor tiles, the back tapestry.
This is the second time in less than a year that I've mentioned Chess-museum.com. The first was Georgian Player, Regency Set (May 2020). How does one go about exploring such a vast repository of chess history?