It's been a little more than seven months since I posted Breaking the 3200 Barrier (December 2020), which appeared a little more than seven months after Breaking the 3100 Barrier (May 2020). Right on schedule, post no.3300 on this blog was TCEC S21 Sufi Underway; CCC Still Romancing (August 2021).
For the corresponding trivia about ratings, I'll return to the '3100 Barrier' post, where I featured a video titled 'The Strongest Computer Chess Engines Over Time'. Here is a screen capture from that video.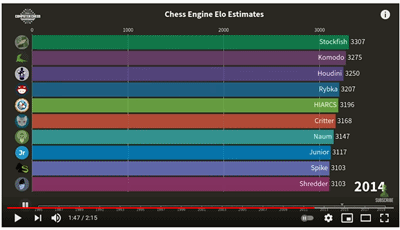 The ratings of the top three engines on the chart are:-
3307 Stockfish
3275 Komodo
3250 Rybka
The bottom right of the screen says, '2014', but the running timeline (which is partially obscured by the video status bar) is at year-end 2012. How can I resolve this discrepancy?