For this month's Flickr favorite, we have a composite image from Chessfest photos on Flickr.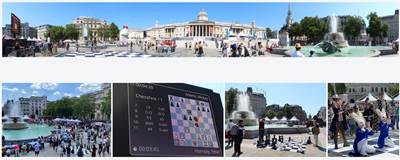 Top photo: ChessFest © Flickr user Steve Elliott under Creative Commons.
What's ChessFest? For more about the event, see ChessFest: Trafalgar Square, 18th July (chess-fest.com). The page explains,
Chess in Schools and Communities (CSC), a charity that uses chess to help children's educational and social development, is pleased to announce ChessFest, a three-day programme of events to encourage everyone to get 'on board' with the great game of chess. ChessFest will take place from 16th-18th July at locations in central London, drawing on the chess theme of Lewis Carroll's "Alice Through the Looking Glass", and culminating in a day of chess activities open to the public at Trafalgar Square on Sunday 18th July.
CSC CEO Malcolm Pein, in Malcolm Pein on...ChessFest 2021 (chessable.com), wrote,
ChessFest came to London town last Sunday with a day of chess based entertainment and fun for all the family. The festival was for every chess player, from expert, to those who may come to learn. The outdoor event took over Trafalgar Square for the day, with free chess lessons, simultaneous displays by Michael Adams and Gawain Jones, giant chess sets and over 100 tables for people to play on.

The theme of ChessFest was Through the Looking-Glass, and What Alice Found There. Lewis Carroll's book is loosely based around a chess game in which Alice advances down the board to become a new queen and it is 150 years since publication.
IM Pein also tweeted, 'We have to do ChessFest 2022!'. If anyone can make it happen, he can. For another chess event in the same location, see Giant Chess in Trafalgar Square (September 2009).