A month has passed since I posted 2021 CJA Awards - Part 1 (August 2021), so Part 2 is long overdue. Part 1 looked at the different classifications of the awards made by the CJA (Chess Journalists of America).
In this follow-up post I'll mention the awards to which I pay particular attention. This is in line with last year's post, 2020 CJA Awards - Part 2 (October 2020), where I featured four specific awards:-
Chess Journalist of the Year
Best Chess Book
Best Chess Art
Best Chess Blog
The most prestigious of the awards, Chess Journalist of the Year, went to Chess Life/CLO Editor John Hartmann for the second consecutive year. Hartmann also won an award for 'Best Humorous Contribution' (a piece titled, 'In Praise of Descriptive Notation').
Just like last year, there were three winners for 'Best Chess Book'in different subcategories. They were:-
Best Book - Instruction; Joel Benjamin; 'World Champion Chess for Juniors' (New in Chess)
Best Book - Other; Andrey Terekhov; 'The Life & Games of Vasily Smyslov' (Russell Enterprises)
Best Self-Published Book; Carsten Hansen; 'The Carlsen Variation - A New Anti-Sicilian to Rattle Your Opponents'
In another post from earlier this year, 2021 CJA Award Entries (July 2021), I predicted,
A sure winner is the Chess Life [CL] cover for August 2020, titled 'New Chess Boom'. It was nominated in two categories : 'Best Art' and 'Best Single Chess Magazine Cover'.
The cover is pictured below. It won an award in both categories for which it was nominated.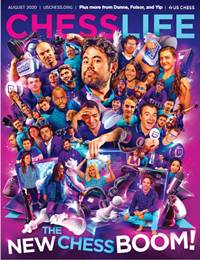 In 'Best Art', the illustration by Neil Jamieson and Frankie Butler won outright, and in 'Best Magazine Cover' it won an honorable mention. The winner in the best cover category was 'Inside Strategies' from the June 2020 edition of Chess Life Kids.
One of the intriguing aspects of this piece is its structural resemblance to images of the Hindu god Vishnu rising out of the ocean of cause / effect. Here the ocean is represented by chess pieces. The CL introduction ignored any metaphysical interpretation and said simply,
This month's cover by Neil Jamieson features a lot of faces you might recognize, and some that you may not know ... unless you're a dedicated Twitch fan! ART DIRECTION BY FRANKIE BUTLER
The award for 'Best Online Blog' had two co-winners. They were:-
Ray Linville; Learning with Each Game; Chess.com
Dana Mackenzie; Dana Blogs Chess
This was Linville's second consecutive win. Congratulations to the winners in all categories, not just the four I've mentioned here. The chess world might not pay much attention to the CJA or their awards, but chess writers do.
I had a few other resources I wanted to look at, like the winning cover from Chess Life Kids, but USchess.org is currently returning a 'Site under maintenance' error message. I'll come back to that as soon as I can.