Belgians like to point out that the battle of Waterloo was not fought at Waterloo; it was fought at Braine-l'Alleud. Chess historians like to point out that the chess games attributed to Napoleon are undoubtedly specious. I like to point out interesting chess images that I find on Flickr. Here's the latest.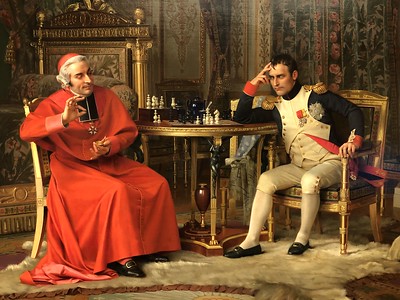 Napoleon Loses a Match © Flickr user Stuart Rankin under Creative Commons.
The description of the photo adds,
Detail of a painting of a chess match between a cardinal and Napoleon, which Napoleon seems to have lost.
The full painting is also available on Flickr at Check, Napoleon and the Cardinal. The description there adds,
Check • Napoleon and the Cardinal • Oil on Panel • 29 x 38 ½ in • Undated • 1931.391.150 • On display in: McKee Room • Another of Vibert's very detailed re-creations of historical episodes, Check depicts an event from the life of Napoleon Bonaparte. [...]
That description is originally from The Haggin Museum - Collections: Art: Jehan-Georges Vibert: Check (208.92.96.159). A more recent version of the page is at Check - Haggin Museum (hagginmuseum.org).
For more about Napoleon and chess, see Napoleon Bonaparte and Chess (chesshistory.com; Edward Winter). Did I say 'more about'? Make that 'all about'. I referenced the same page in Napoleon and Josephine Biscuit (July 2017).
***
Later: The detail on the high resolution copy of the Flickr photo is enough to work out the position on the board. Napoleon (playing White, on move) is in trouble.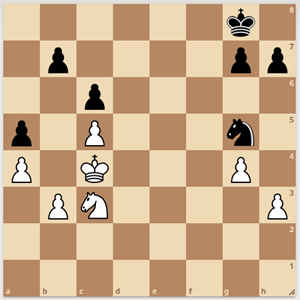 FEN: 6k1/1p4pp/2p5/p1P3n1/P1K3P1/1PN4P/8/8 w
(lichess.org)
Thanks to AL for sharing this discovery.