Of the many types of items that appear in this series on Top eBay Chess Items by Price (March 2010), my favorite is artwork. One of the reasons it's my favorite is the wide -- dare I say infinite? -- range of expression that art offers to artists. Last month we saw a classical item in eBay Deja Vu (August 2021), and this month we see the call-it-anything-but-classical item pictured below.
What style is it? According to its title, 'Mirror Chess Original Handmade Oil Painting Gothic Fantasy Surrealism 30 x 36', it's gothic-fantasy-surrealism, and it sold for '$3,500.00 or Best Offer'.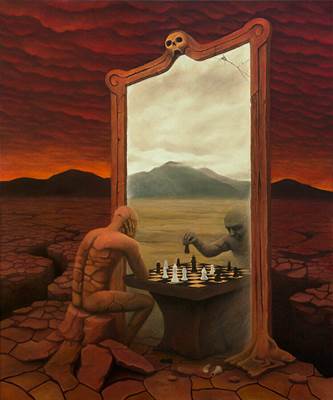 The description said,
About the painting This is one of my paintings from Fantastic Realism Collection.
• Title: Mirror Chess.
• Size: 30" x 36", 0.75" thick. (91.5 x 76cm, 1.5cm thick)
• Technique: original, varnished oil painting on canvas
• 100% hand painted unique painting, one of its kind, not a copy or reproduction, my own idea.
• Canvas is gallery wrapped, no visible stitches on the edges. All sides are painted to match the colors of the painting. You can hang it on the wall with or without the frame. You will have to put two hooks in your wall because of the panel on the back of the painting.
• Signature initials MR is hidden within the painting. My artist pseudonym is Mag Raven.
• It has certificate of authenticity (COA) with its unique number. All my artwork is catalogued.
• This painting took over 40 hours to finish. Each layer of paint has to dry out before I can continue painting. It makes entire process longer.
'Mag Raven'. Where have I heard that name before? It might have been the post Quest for Logic (October 2014), but it's hard to accept that the name stuck with me for seven years. There must have been some reinforcing along the way.
The 'Quest for Logic' post included a note from the artist which was similar to a 'From the artist' section of the description for this current post. One difference worth noting is that the 2014 sentence...
I also find my inspiration in old ruins, rocks, bones and cemeteries, simply things what remind of death but they can last for thousands of years.
...appeared in 2021 as...
I'm also inspired by old ruins, rocks and bones, simply things what remind us about inevitable end but they can last for millions of years.
Did the artist decide that cemeteries and death are not a good marketing tactic? I have a photo of a chess cemetery somewhere, but I'll tackle that another time.
***
Follow-up: Take 'Pine Box Trail' to 'Chess Cemetery' (September 2021).