The previous post in the Yahoo series, National Yahoos (August 2021), was 'all about news sources', but this post returns to the stories themselves. 'What are Yahoos?', you ask. See the footnote at the bottom of this post for an answer.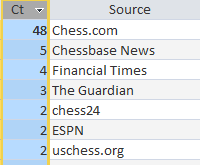 Before getting to the stories, let's have the usual overview of the sources, shown to the left. 'Usual' means that Chess.com heads the list. The online chess juggernaut accounted for 48 stories this month, eclipsing its previous record of 46 stories reached two months ago in Three Times Yahoos (July 2021).
Only six other sources managed to have at least two stories, the lowest number since February 2021. That leaves 34 sources with a single story.
One story I expected to see on the list involved Netflix and it appeared three times. Here's the NPR version:-
According to NPR, the gist of the story goes like this:-
The Queen's Gambit on Netflix won over tens of millions of viewers last year, triggering a national run on chess sets and making an instant icon out of its fictional protagonist. And that's not all it did, according to one real-life champion. Georgian chess legend Nona Gaprindashvili -- who made history as the world's first female grandmaster -- alleges the show belittled her career and damaged her reputation with a single sentence. Gaprindashvili is now suing Netflix for defamation and invasion of privacy, according to a 25-page complaint filed in a federal district court in California on Thursday.
That single Netflix sentence, also according to NPR, was:-
"The only unusual thing about her, really, is her sex. And even that's not unique in Russia. There's Nona Gaprindashvili, but she's the female world champion and has never faced men."
I recall that when I heard that line while watching the Netflix episode, I assumed it meant that she 'never faced men' during a World Championship event, which is true. My page, World Chess Championship : Index of Women Players, says she played in 19 different events for the Women's World Chess Championship. According to a post on my World Championship blog, Women's World Championship Stalwarts (August 2020), that is the highest number of participations achieved to date, equalled only by another Georgian player, Maia Chiburdanidze.
Maybe I'm too close to the subject. The Netflix phrase 'never faced men' wasn't limited to the context of World Championship events. The NPR story goes on to give a detailed account of the background to the complaint. I'm sure the story will reappear when it's finally settled, certainly in the chess press if not the mainstream press.
One event where I was surprised to see multiple mentions concerned chess960. All four stories were from chess sources. Here's one:-
Chessbase News is nearly always on the list of top sources for any given month and was runner-up for September. Another frequent source is the Financial Times, which placed third for the month. One of the four FT stories was also about chess960, although you wouldn't guess that from the title:-
I already hinted at FT's influence in the 'Three Times Yahoos' post, where the 'third "Times" source was the Financial Times'. I should have mentioned that the FT writer is none other than Leonard Barden, perhaps the greatest chess journalist of all time. His previous FT columns, one per week, are available via ft.com/search?q=chess.
I'll close this Yahoo post with a real Yahoo. Its origin is a press release:-
Believe it or not, the story is about garbage collection. Don't take my word for it; it's all detailed in the press release, along with a quote by 'Chess.com CEO Erik Allebest', better known as simply Erik by the millions of Chess.com members.
[Yahoos (mainstream news stories about chess) are derived from Google News top-100 (or so) stories from the past month.]