In this month's Flickr post, Classical Does Not Apply (September 2021), I gave myself a follow-up:-
Did the artist decide that cemeteries and death are not a good marketing tactic? I have a photo of a chess cemetery somewhere, but I'll tackle that another time.
It turned out to be an unused Flickr favorite from nearly a decade ago.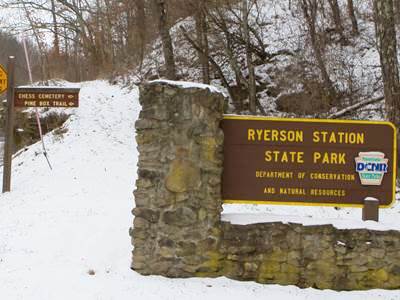 Chess Cemetery © Flickr user Devon Christopher Adams under Creative Commons.
The description says,
Chess Cemetery in Greene County, Pennsylvania. A mid-1800s family cemetery on top of a hill near Ryerson Station State Park. While there are many Chess family members buried here, there are also a few GRIM family members related to the Brothers Grimm.
While I was working on this, I discovered that the Flickr info is incorporated in the photo's EXIF data, at least for downloaded photos. That could be useful some day. For more photos from a related series by the same photographer, see Devon Christopher Adams's photos (flickr.com; &text=chess). Back to the photo above, the sign on the left says,
Chess Cemetery ->
Pine Box Trail ->
The large sign says,
Ryerson Station State Park
Department of Conservation and Natural Resources
The colored portion of the large sign says, 'DCNR - Pennsylvania State Parks'. Another discovery for this post was a poem, 'Cemetery Chess' by Sandy McIntosh. Copies of the poem are available on the web by using the obvious search terms.