In this blog's long-running series on Top eBay Chess Items by Price (March 2010), we've seen just about everything, including cherubs: Chess with Cherubs (July 2013). Of course, 'just about everything' doesn't mean everything.
Here's something we haven't seen. Titled 'Antique Dresden Wehsener Hand Painted Playing Chess Scene Cup & Saucer', the item pictured below sold for US $840.00 after three bids from three bidders, on a starting price of $780.00.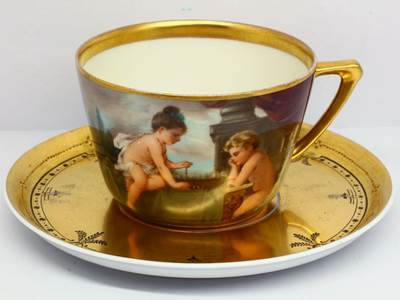 The item's description was informative, although I'll use a different order to present the information. It ended,
An interesting and beautiful Dresden cup and saucer set. The cup has a hand painted scene. Depicting a little boy and a little girl playing chess accompanied by beautiful views. The scene has some very fine details, a table covered by green tablecloth with a chessboard and chess pieces on top, the boy sitting on a chair covered by feathers blanket, with red curtain and marble column behind him. The hand painted scene with the beautiful views circle around the exterior of the cup. The surface of the saucer is fully gilded. An interesting and beautiful cup and saucer set.
Before that we had some technical details.
[Date] 1895+ • [Size] The cup: 6.2 cm high /8.5 cm diameter. The saucer: 14.3 cm diameter. • [Condition report] Very good condition with no crack, hairline, restoration or chip. There are gilt wears on the top rim of the cup, two small area on the saucer have gold lost.
The description started with a macro look at the business that produced the cup.
[Factory] Dresden (Richard, Gerhard & Werner Wehsener) Germany. Richard Wehsener started his own business in 1895.His next step was a studio store in the Zinzendorfstrasse. There was great demand for his designs. Even the British Museum and the National-Museum in Washington DC obtained his pieces. Wehsener became known around the world as "Dresdner Handpainting" and "Dresden China".

In 1914 Richard Wehsener, opened the store for his studio store on Prager Strasse; Dresden's famous Prager Strasse, a world-renowned shopping area which was obliterated by World War ll bombing. However, the Wehsener's Porcelain firm survived and is still in business today with Richard Wehsener's descendants although this art of styled of porcelain painting seems to be fading as less are proficient.
The guardian of blogging about chess and coffee is 'Spraggett on Chess' (not for all ages). A recent example, subtitled 'Black Coffee: Always Steamy', was Coffee, Death, FIDE and other Nonsense! (spraggettonchess.com; August 2021). Along with 'Latest Coffee Study', it discussed 'Historic First by a Woman!' (Dora Maar) and 'Trying to keep FIDE honest' (FIDE president Arkady Dvorkovich).
Coffee, yup (with cherubs). Dora Maar, yup (see Dora Maar, Weeping Woman; June 2020). FIDE and Dvorkovich, yup. There are only so many subjects suitable for a chess blog.