Yesterday's post, September 1972 & 1997 'On the Cover' (September 2022), fell on an important anniversary in chess history:-
The date of today's post, 1 September, marks 50 years since the historic match ended.
The historic match, as many online chess resources have been reminding us for the past two months, was the 1972 Fischer - Spassky Title Match (m-w.com).The subtitle for that page says, 'Reykjavik, VII-VIII, 1972'; perhaps it should say, 'VII-IX'.
One of the early posts in this Fischer Friday series was Legends of the 1972 Match (June 2022; links to scans of Petursson cards) It featured a full color Halldor Petursson poster, a large copy of the first black & white ('B&W') card in the well known series so often used to illustrate write-ups of the 1972 match.
The following image shows another full color Petursson poster, a large copy of the last card (no.18) in the B&W series. The numbering of the cards, found on the back of each card, makes me wonder whether they are ordered in chronological sequence.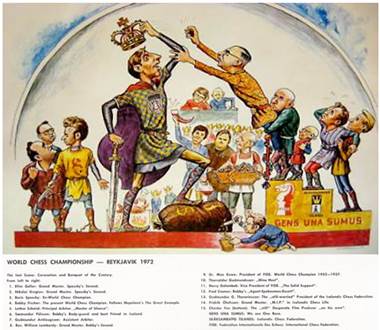 My narrative about the card in the 'Legends' post...
The scan, taken from the original eBay auction, isn't particularly good, but I would need a large scanner to do better. [...] In creating the image shown above, I started with the color portion of the poster and appended the English legend.
...is just as true for the current card. The English language legend on this card says,
WORLD CHESS CHAMPIONSHIP - REYKJAVIK 1972
The last Scene: Coronation and Banquet of the Century.
From left to right:
1. Efim Geller: Grand Master. Spassky's Second.
2. Nikolai Krogius: Grand Master. Spassky's Second.
3. Boris Spassky: Ex-World Chess Champion.
4. Bobby Fischer: The present World Chess Champion. Follows Napoleon's The Great Example.
5. Lothar Schmid: Principal Arbiter. "Master of Silence".
6. Saemundur Palsson: Bobby's Body-guard and best Friend in Iceland.
7. Gudmundur Arnlaugsson: Assistant Arbiter.
8. Rev. William Lombardy: Grand Master. Bobby's Second.
9. Dr. Max Euwe: President of FIDE. World Chess Champion 1935-1937.
10. Thorvaldur Gudmundsson: "Mine Host".
11. Harry Golombek: Vice President of FIDE. "The Solid Support".
12. Fred Cramer: Bobby's "Agent-Spokesman-Escort".
13. Gudmundur G. Thorarinsson: The "still-worried" President of the Icelandic Chess Federation.
14. Fridrik Olafsson: Grand Master. "M.I.P." in Icelandic Chess Life.
15. Chester Fox (bottom): The "still" Desperate Film Producer on his own".
GENS UNA SUMUS: We are One Race.
SKAKSAMBAND ISLANDS: Icelandic Chess Federation.
FIDE: Federation Internationale Des Echecs: International Chess Federation.
A resource I've frequently relied on for the Fischer Friday series is 'Bobby Fischer vs. the Rest of the World' by Brad Darrach. See, for example, According to Darrach, Day by Day (July 2022). Darrach described the transition from the 10th World Champion to the 11th in his usual colorful style:-
And then one day, after seven successive draws, the score stood Bobby 11 1/2, Spassky 8 1/2. For the first time Bobby could finish the match with a single victory. "He'll be gunning for this one," [GM Robert] Byrne said. "He won't want to back into the title with another draw."

At 3 A.M. on Friday, September 1, 1972, Spassky lay in bed and stared into the drab reverse twilight of a northern dawn. In the twenty-first game, Bobby had fooled him in the opening and in irritation Spassky had sealed a move that left him less chance of drawing than Bobby had of winning. A careless fluff had cost him his last hope of leaving a stain on Bobby's triumph and a doubt in Bobby's mind. Now all he could do was go down fighting. And yet ... did he really want to let that arrogant Bobby rip off his scalp on the stage of the playing hall while thousands cheered? Spassky decided that for his own sake and for the sake of his country he must make a more carefully managed exit.

At 1 P.M., Harry Benson [photographer for Life magazine] dropped by the Saga [Hotel]. To his surprise he saw Spassky stride out of the elevator, Krogius at his heels. When he saw Benson, Spassky broke into a big smile and casually handed him the news beat of the summer.

"Hello, Hahrry! There is new world champion! I have just resigned."

Benson's face fell. "I'm sorry to hear that, Boris."

"Don't be sorry," Spassky said. "It is sporting event and" -- he shrugged -- "I lost. Bobby is new champion. So! Now I must have walk." And off he went.

Benson called Bobby. "Congratulations! You're the world champion."

"Yeeaah?" Bobby was pleased but suspicious. "How ya know?"

"Spassky resigned. He told me so himself."

"Ya sure?"

When Lombardy arrived, Bobby was still hunched over the analysis board, eyes blazing. "How do I know it's not a trick to make me stop workin' so he'll win? Tell Schmid I demand to see Spassky's resignation in writing!"

At 2:25, Schmid was beside himself. Almost half an hour after game time, Bobby had not shown up to claim his victory. Schmid had refused to make Spassky come to the playing hall and write the word "resigned" on his score sheet -- was Bobby taking his revenge?

At 2:30, Bobby burst onstage, looking surly-shy.

"Ladies and gentlemen," Schmid announced in a sweat of relief, "Mr. Spassky has resigned it by telephone at 12:50 o'clock."

Loud applause. Bobby winced and half looked up from the score sheet he was signing.

"Mr. Fischer," Schmid continued, "has won this game ... and he is therefore the winner of the match."

Thunderous ovation. Bobby scowled as if he wished they would all go away. The ovation faltered, then swelled into rhythmic clapping and stamping. Hastily, as if afraid all those people were coming after him, Bobby bolted through the curtain and was gone. Applause subsided into exclamations of incredulous exasperation. "You mean," an American visitor asked, "this is how it ends?"

This was how it began, the reign of King Bobby.
As we all know 50 years later, 'the reign of King Bobby' was the least productive in chess history. Except for a few games against a weak computer in 1977, Fischer didn't play another published game until 20 years later, the 1992 Fischer - Spassky Rematch, Sveti Stefan/Belgrade (m-w.com). I'll add a post or two about that match to this Fischer Friday series.