In last month's post, August 1972 & 1997 'On the Cover' (August 2022), the most recent in this blog's long running series about American chess magazines 50 and 25 years ago, I asked and answered,
And what about the other championship that was taking place 50 years ago? A one page story, 'The Match: Fischer Leading!' by Burt Hochberg, gave the raw game scores for the first six games, where the sixth game had been played on 23 July.
Jumping ahead a month to its September 1972 issue, CL&R couldn't yet report the final result of the match. The five page lead story, 'The Match' by Robert Byrne ('in Reykjavik covering the match for a New York newspaper and for CL&R'), had annotations for the first five games and raw game scores through game 14, which was played on 15 August.
The date of today's post, 1 September, marks 50 years since the historic match ended. In his book that appeared in 1974 -- see the post Spassky's Team (July 2022), for more about the book -- GM Byrne wrote an introduction to the last game, which started on 31 August. He said,
After seven draws in a row [Fischer won the 13th game], Bobby finally broke through to take the 21st game and the match. One of the most important opening innovations he produced in the match came this time in a variation of the Sicilian Defense he had never before shown any liking for. It cashiers one of the chief attacks available to White, Black obtaining a small but clear advantage.

However, just when Bobby seemed to be succeeding in the struggle, Boris came up with a finely-judged Exchange sacrifice which should have left little question about the draw. Unfortunately for him, he then blundered monstrously, throwing away the fruits of his intrepid defense and going down to defeat.

Spassky's resignation by telephone [the next day] disappointed the fans, who wanted to see the endgame technique the old and new champions took for granted. At the final banquet, Fischer was still going over the variations resulting from Spassky's sealed move, 41 B-Q7, pointing out the various desperate traps still at White's disposal. Thus ended "The Match of the Century."
We'll come back to the end of the 1972 match for the October 'On the Cover' post. For this current post, let's return to our U.S. chess magazines from Septembers of yesteryear.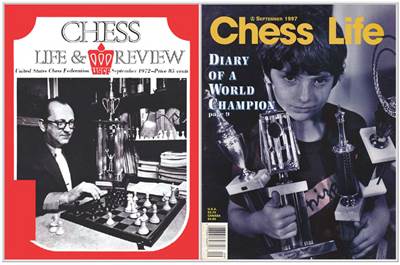 Left: '?'
Right: 'Diary of a World Champion (Trophy: "86 Memorial Day Open - Unrated")'
Chess Life & Review (50 Years Ago)
1972 U.S. Amateur Champion Ed Vano of Highland, Indiana. Tournament story [inside].
The corresponding tournament report 'Vano Wins U.S. Amateur' was unsigned, but we can guess that it was written by one of the TDs listed at the end: 'Tournament Directors were Bill Goichberg, Larry King, Bob Moran, and Phil Newman.' The report started,
255 players competed in the 22nd Annual United States Amateur Championship, played in New York City over the Memorial Day weekend. There were 148 in Group One, open to all non-Masters, and 107 in Group Two, open to all under 1800 or unrated.

12th-ranked Edward Vano (2050) of Highland, Indiana, a former Master, topped Group One on tiebreak to take the national title. Matching Vano's 6-1 score were George F. Miller III (2117) of Syracuse, N.Y. and Joseph Weldon (2044) of New York City, who placed 2nd and 3rd respectively.
In those days, CL&R gave a full cover to the winner of the U.S. Amateur. A year ago, in August 1971 & 1996 'On the Cover' (August 2021), we saw that the 1971 winner was Clarence Kalenian.
Chess Life (25 Years Ago)
So who knew? Perhaps his mother knew, when she sent in the cover photo, back in 1986. Perhaps Dr. Aspis had an inkling back in 1991. Or maybe Leon Haft of the Marshall Chess Club could have predicted it when the lad won the U.S. Cadet Championship in 1992.

Earning a Samford Fellowship in 1996 might have been an indication of future achievements; U.S. Junior Championships in 1995 and 1997 didn't cloud the waters. But who knew Tal Shaked would join a long line of successful Americans who have won the World Junior Championship?

Anyone who has met the young man, that's who. Not by dint of style or playing strength, but because one could not hope for a better role model for today's youth. It had to happen because we all wanted it to happen.

I think his mother knew. Even back in 1986.
The tournament was summarized in a full page photo story, titled 'Player of the Month : Tal Shaked':-
Tal Shaked was awarded the title of World Junior Champion in Zagan. Poland. on tiebreaks over Vigen Mirumian. Both finished with scores of 9.5-3.5 The event was held July 13-28. Tal joins a long line of distinguished winners of this prestigious title. Tal is definitely our Player of the Month!
Incorporated into the story, titled 'Diary of a World Junior Champion', was a list of nearly 20 highlights of his young career. For his later years, see Tal Shaked (wikipedia.org). Another Wikipedia page, World Junior Chess Championship, informs that the only American player to win the same title after 1997 was Jeffery Xiong in 2016.