Continuing with the 'Fischer Friday' series, last seen in 1992 Fischer - Spassky 'Under the Weather' (September 2022), in that post I wrote,
Photo D1 is about a moment from the opening press conference that is more famous than any of the games played in the match. It shows Fischer with the letter that led to the famous spit incident.
The composite image including that photo in black & white is seen below, with 'photo D1' circled in red. Superimposed on the composite is a similar photo in color.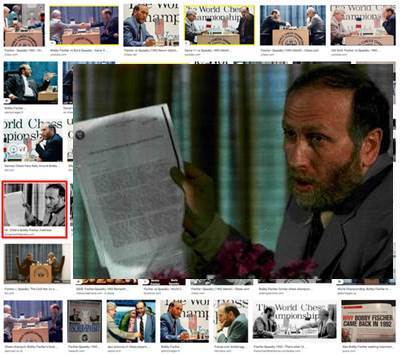 The eBay auction offering the color photo said,
You are bidding on an original press photo from 9/2/1992. Chess legend Bobby Fischer holds a letter from the U.S. government at a news conference in Yugoslavia. The letter said his match with Russia's Boris Spassky violates sanctions against Serbia and Montenegro. Fischer spat on the letter. Photo is 8.5" x 11" in size. This photo originates from the archives of the Chicago Sun Times and Daily News, Detroit News, and Sports Magazine. Most photos have never been seen by the public.
That incident was recorded in a Sports Illustrated (SI) article by William Nack dated 14 September 1992: The Fischer King (vault.si.com; Sports Illustrated Vault).
The Fischer King • In the surreal setting of war-torn Yugoslavia, reclusive chess grandmaster Bobby Fischer emerged to meet Boris Spassky

[...] Fischer made something of a spec-tac-le [sic] of himself on the eve of the match, when he held forth at a press conference that was quite as memorable as anything [American baseball pitcher] Roger Clemens ever contrived. Few of the hundred or so members of the press in attendance had ever seen Fischer, and when he arrived, all eyes turned and followed him as he walked with his loping, ungainly gait to the front of the room, looking much as he did seven years ago—down to the balding pate and the thin beard—when an obsessed magazine writer found him in the L.A. Public Library (SI, July 29, 1985). Settling into a chair in the Hotel Maestral, Fischer studied the written questions that reporters had submitted to him and began by saying, "I'll start off with, umm, ah, some impudent questions from The New York Times [Roger Cohen]."

With traces of Brooklyn still in his voice, he read one question after another. " 'Why, after turning down so many offers to come back, did you accept this one?' That's not quite true. As I recollect, Karpov, in 1975, was the one who refused to play me under my conditions, which is basically the same conditions we are playing now.... 'Do you feel that your chess has improved over the past 20 years?' Well, we'll see.... 'If you beat Spassky, will you go on to challenge Kasparov for the world championship?' "

Here Fischer turned and pointed to the large sign behind him that announced this affair: THE WORLD CHESS CHAMPIONSHIP. "Can he read what it says behind here?" asked Fischer, to applause. " 'Are you worried by U.S. government threats over your defiance of sanctions?' " At this point he reached for his briefcase and pulled out a letter from the U.S. Treasury Department warning him that by playing the match, he risked stiff fines and 10 years in jail for violating President Bush's executive order imposing economic sanctions against Serbia and Montenegro. "So," Fischer said, "here is my reply to their order not to defend my title here." Holding the letter in front of him, he spit on it, and added, "That's my answer."

Reporters gaped incredulously at one another. Asked if he supported the United Nations' sanctions against Yugoslavia, Fischer launched upon an attack of the U.N. for rescinding "a pretty good resolution against Israel about Zionism is racism...." He was merely warming up to the subject. " 'Do you regard yourself as an anti-Communist fighter?' First of all, we have to understand what communism is. I mean, to me, real communism, the Soviet communism, is basically a mask for Bolshevism, which is a mask for Judaism." And when asked about his being widely characterized as anti-Semitic, Fischer replied, "In the first place, this term anti-Semitism is a nonsense term, because my understanding is that the Arabs are also Semites, not only the Jews, so I don't know what that means. I'm definitely not anti-Arab."' [...]
I once did a short series on chess articles in Sports Illustrated. For the last post in that series, see Browne: 'I got this aggression that never quits' (July 2017; 'let's squeeze one more post out of the aging Sports Illustrated reports on chess'). William Nack, the author of the 1992 SI article quoted above, was also the author of the July 1985 article mentioned in the first paragraph of the 'The Fischer King' excerpt. For a link to that article plus a list of related SI articles -- including 'The Fischer King' -- see the post, Fischer: 'I'm not seeing people' (June 2017).