How long has it been since we had a real Yahoo -- a mainstream news source reporting on a chess story -- on this blog? I scrolled back through dozens of 'posts with label Yahoos' and decided that it must have been A Yahoo Backstory (December 2020). Shown below is the latest Yahoo.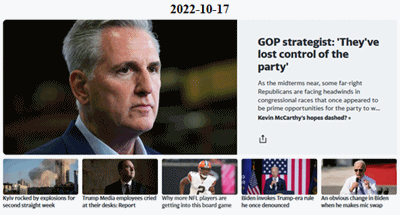 It's not immediately obvious which of the six stories is the chess story. If we eliminate the three stories referring to U.S. politics, like the one on the top, the chess story must be the one in the middle of the bottom row captioned, 'Why more NFL players are getting into this board game'.
Although 95% of the world believes the 'F' in 'NFL' means the type of football played only with the feet, not with the hands, the other 5% call that international game 'soccer'. Their football is played by really big men who aren't always known for really big smarts. The link behind the story led to:-
2022-10-11: Forget Madden, The Hottest Game in the NFL Is Chess (yahoo.com; The New York Times, Robert O'Connell) • 'Amari Cooper, the Cleveland Browns wide receiver and a four-time Pro-Bowler, had Cincinnati Bengals cornerback Chidobe Awuzie on his heels. Cooper attacked Awuzie with a flurry of maneuvers, setting up a charge that he hoped would break the game open. Awuzie, though, had learned from Cooper during their 2 1/2 seasons as teammates in Dallas. Leaning on his insider scouting report, Awuzie found his footing and countered. [...] Pawn to f3.'
The original NYT story can be found at Forget Madden... (nytimes.com). It has a revealing subtitle:-
Athletes, known for being gamers, often find ways to compete during their downtime. Football players who tackle chess are drawn to the mental challenge that runs against stereotypes in their sport.
A few years ago, in February Yahoos (February 2018), we saw another chess football story. The external headline that time was 'This Ex-NFL Player [John Urschel] Is On A Mission To Become A Chess Master' (yahoo.com).