The first few months of this 'Fischer Friday' series were mainly about the 1972 Fischer - Spassky Title Match (m-w.com). Then in the post FS 1972 + 20 = FS 1992 (September 2022; 'It's time to change the subject, if only for a few weeks'), I switched to the 1992 Fischer - Spassky Rematch (also m-w.com). Let's return to the 1972 match.
While preparing this month's eBay post -- 'Top eBay Chess Items by Price', Chess and Italian Design (October 2022) -- I noticed many Fischer items near the top of the list. I doubt it's a coincidence and am reasonably certain that the interest is related to the 50th anniversary of the 1972 match. The following image shows the top Fischer eBay items from the time of the 'Italian Design' post.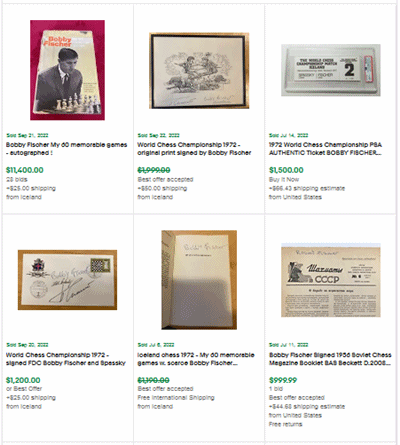 Three of the items were from the same seller -- the first two in the top row and the first in the bottom row. The first item in the top row sold for more than the other five items taken together. Titled 'Bobby Fischer My 60 Memorable Games - Autographed!', the winning bid was US $11,400 after 28 bids, on a starting bid of $5,000. The description said,
Exceptional memorabilia from the World Chess Championship in Reykjavik, Iceland 1972. 1st edition of My 60 Memorable Games signed by Bobby Fischer to his friend Saemi Rock, a.k.a. Saemundur Palsson, friend and bodyguard in 1972.

Signature is dated Sept. 1st, 1972 or just after Bobby won the 21st and last game of the match. Condition: as seen on pictures, dust cover has some damages and repairs, book itself is in fine condition.
Fischer's inscription said,
To Sam, with thanks for his tireless work and companionship during my stay in Iceland. • Bobby Fischer, Sept 1, 1972
Of the other five items, four were signed by Fischer. The exception was the ticket to game two, the forfeited game, at the end of the top row. I'm sure I'll see more Fischer items for the next post in the 'Top eBay Chess Items' series, scheduled for next weekend.