Last week's Friday post, Wayback to Smartchess (November 2022), discussed a trailblazer among chess-on-the-web sites. I noted, 'The first issue of 'SmartChess Online' was dated August 1997 and the last was dated August/September 2003, a total of 45 issues.'
The first item in the August 1997 issue was titled 'Publisher's Message by International Grandmaster Ron Henley'. Largely editorial, it was to become a regular column in future issues, appearing more often than not. In it GM Henley gave his thoughts on topical issues related to chess, to video publishing, and to the internet in general. The first such column started,
Dear Readers: It gives me great pleasure to introduce to you the premier issue of SmartChess Online - a new FREE monthly magazine brought to you by R&D (Chess) Publishing's World Wide Web Chess Superstore.

In 1993, my good friends Anatoly Karpov, Paul Hodges and I set a mission for ourselves. We laid the foundations of a chess resource that would provide the world's chessplayers with a high-quality, one-stop chess educational and shopping experience. To this end, we have worked with people of exceptional and varied talents, resulting in the launch of this all-new version of our popular World Wide Web site.

With this monumental step forward the World Wide Web Chess Superstore clearly establishes itself as the world's leading Internet-based chess retailer. The introduction of this version of our World Wide Web site (which replaces the one that many tens of thousands of visitors have frequented since its inception in 1995), marks only the completion of an intermediate phase of our overall plans for our World Wide Web presence.
That earlier version of SmartChess is presumably lost, having predated the introduction of Archive.org and the Wayback Machine. The Henley column continued,
For your convenience, this new version of our site contains a dynamic, illustrated chess catalog, featuring online shopping capabilities and a powerful catalog search engine. To protect the privacy of our valued customers, transactions on this Web site are safeguarded by the use of state of the art encryption and secure server technology.

In addition to the regular features and guest contributions in SmartChess Online (presented by some of the world's best chessplayers) we will be constantly expanding the frequently visited chess education resources that are archived on our site. In the near future, we will bring you analysis, updates and reports from the most important chess events from around the world.

SmartChess Online will also include interviews of chess stars and penetrating reviews of the many chess products that are now available to the consumer. We will strive to incorporate the latest technological developments available for the dissemination of chess information and instructional material as the World Wide Web Chess Superstore blazes the trail into the Twenty-First Century.

Regards, Ron
The mention of GM Karpov was not accidental. He was one of the magnets intended to draw visitors to the site. An earlier press release, titled 'A Press Release by Anatoly Karpov' and dated 18 December 1996, had stated,
Statement by Anatoly Karpov: In the opening paragraphs of my January 1997 "Grandmasters Musings" column (in Chess Life), I briefly mentioned one of my recent involvements in chess on the Internet in which I appeared as a guest of chess.net, a company of which I recently became a shareholder. Elsewhere [in that issue of CL], FM David Gertler reported on my recent "Internet Match" sponsored by PT Finland. I would also like to mention that I am a frequent guest lecturer at the superb Internet Chess Academy (www.yourmove.com) created by the talented young GM Gabriel Schwartzman.

However, I would like to take a brief aside to clarify my primary "business status" on the Internet with my fellow Chess Life readers. I am on the Board of Directors and part owner of R&D (Chess) Publishing and its subsidiary the World Wide Web Chess Superstore - a chess retailer and chess publisher with a strong Web presence, that serves customers in (currently) 57 countries. I have had a long and mutually rewarding relationship with R&D (Chess) Publishing which is based in New Jersey. Its President is Chess Life columnist GM Ron Henley - my good friend and chief trainer.

Our Web site at www.smartchess.com is in fact my one and only Official Home Page, and this company also acts as my only official agent in the USA regarding chess publishing matters. Any inference otherwise can be considered inaccurate. I have not revealed my association with the World Wide Web Chess Superstore before in my Chess Life column, as my fellow Directors and I considered this to be an inappropriate forum for the dissemination of this information. Although I am heavily in favor of promoting our wonderful sport and interacting with chess enthusiasts all across the world via the Internet, I felt it necessary to dispel any possible misconceptions about my primary "Internet chess persona."

Transmitted to GM Ron Henley by Anatoly Karpov and posted by GM Ron Henley and submitted to Chess Life.

[signed] GM Anatoly Karpov, GM Ron Henley
Karpov's active involvement with the site lasted about six months and was usually documented in an issue's 'Publisher's Message'. At the same time Karpov's participation was decreasing, that of another, younger link to Soviet chess was increasing. The February 1998 issue of SmartChess announced,
Press Release - 26th February 1998: Superstar GM Alexei Shirov signs contract with WWW Chess Superstore to make a series of instructional chess videos!

The World Wide Web Chess Superstore is pleased to announce that the Latvian-born Spanish GM Alexei Shirov has signed a contract that will bring him to the United States in June 1998 in order to film a series of instructional chess videos hosted by GM Ron Henley.

The twenty-five year old Shirov is rated 2710 ELO on the January 1998 Rating List and is ranked at #8 in the World. Shirov - a brilliant tactician - is famous for his dynamic, sharp and imaginative style of play, and has built a substantial fan base for himself in online chess play. [...]
The May-June 1998 issue of SmartChess included the following promotional material.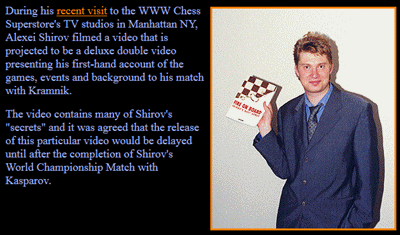 The same issue of SmartChess announced that Shirov had beaten Kramnik, thereby earning him the chance to play Kasparov for glory and big bucks. For more about that match, see my page World Chess Championship : 1998-99 World Chess Council and more (m-w.com); 'Kasparov seeks a title match', 'The World Chess Council', 'Shirov beats Kramnik', etc. The SmartChess partnership with Shirov was eventually limited to a series of his videos.
Henley's last 'Publisher's Message' appeared in the May/June 2001 issue of SmartChess. In it he mentioned,
Over the years many people have approached me about giving them private lessons. For the most part I have resisted, due primarily to lack of time. However, helping others to improve, understand and appreciate chess is something I thoroughly enjoy doing. As my life has now become more organized and focused, I now have TIME to teach a strictly limited number of private students.
Another article, appearing in the same issue, said,
International Grandmaster Ron Henley Available for Private Chess Lessons • MY CURRENT CLASS OF STUDENTS IS COMPLETE • Available (Manhattan, NY Only) for private lessons • Fee $100 per hour (2 hour minimum) [...]
It was to be Henley's final involvement with SmartChess Online. The site continued with less interesting material and updates ceased two years later. The final issues had little content.
Many editions of GM Henley's 'Publisher's Message' discussed his efforts to make a success of both SmartChess and its associated 'WWW Chess Superstore'. Its fate mirrored that of many early web sites in other sectors: so much promise, so much hope, so little to finally show for it.
[This post is only an outline setting a few chronological boundaries. There is much more to the story, in particular the progress of teenage Irina Krush and, later, pre-teen Hikaru Nakamura.]