In the recent post, The SmartChess Saga (December 2022), I highlighted a SmartChess.com press release:-
An earlier press release, titled 'A Press Release by Anatoly Karpov' and dated 18 December 1996, had stated, "Statement by Anatoly Karpov: In the opening paragraphs of my January 1997 "Grandmasters Musings" column (in Chess Life), I briefly mentioned one of my recent involvements in chess on the Internet in which I appeared as a guest of Chess.net, a company of which I recently became a shareholder. [...] I would also like to mention that I am a frequent guest lecturer at the superb Internet Chess Academy (yourmove.com) created by the talented young GM Gabriel Schwartzman. [...]"
What did former World Champion Karpov say exactly? This:-
Before we begin the discussions of the games for this issue, I would like to let my readers know of a significant new development in my chess activities. I am very excited to have become a new owner of Chess.net, the leading site for interactive Internet chess. Chess.net offers interactive play. the opportunity to train with masters and grandmasters. and one of the world's strongest tournament-proven chess engines -- ROboMAN.

I joined Chess.net because I was impressed with the sophistication of the software and technology and excited by the group's com- mitment to chessplayers. The Internet will propel chess to a much higher level of world- wide participation and interest This is a very significant turning point in the history of chess.

Although I am extremely busy. I will still be able to log onto Chess.net for at least two or three hours a week from anywhere in the world. If you don't see me on one of my impromptu visits. check out the Chess News section of our web site at www.chess.net to see when I will he logged on again. Most likely I will be playing blitz games against the 20 or so grandmasters who regularly play there, but I am sure that every so often I will find the time to play a game with a committed club regular, as these are the individuals who make the club successful for all of us. Naturally, I will be broadcasting all of my events on Chess.net, and I hope to see you there.
Reading between the lines, we surmise that Karpov was guilty of divided loyalty -- SmartChess.com on one side, Chess.net on the other. Once again, the Wayback Machine on archive.org -> chess.net gives us a top-level glimpse of an early web resource, Chess.net (circa 2000).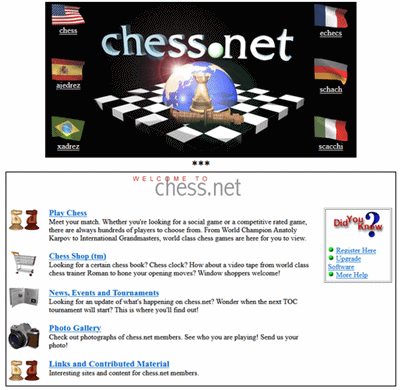 Top: Chess.net language selection • Bottom: Home page (English)
That second menu link says,
Chess Shop (tm) • Looking for a certain chess book? Chess clock? How about a video tape from world class chess trainer Roman to hone your opening moves?
Does 'chess trainer Roman' have anything to do with the 'ROboMAN' mentioned by Karpov? I'll try to find out in a follow-up post.