This last Yahoos post for 2022 (see the footnote for an explanation of Yahoos) had a number of surprises. The first surprise was a lead section that I had never seen before titled, 'News about chess tournament, hijab', with nine stories. This was followed by the usual collection of stories under the title 'Also in the news'.
The second surprise was that none of the nine news sources was a chess site. The nine stories were from nine different mainstream news organizations like CNN, Fox News, Reuters, and The Telegraph. But I'm getting ahead of myself. Let's first insert the usual analysis of news sources.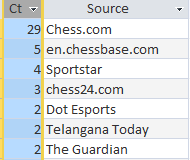 Of the 98 stories listed by Google News, 85 were for the current month. Seven sources, shown in the chart on the left, had more than one story. Since they accounted for 47 stories, that leaves 38 sources with a single story.
The two sources with 'Sports' in their name also popped up last summer in Olympiad, Business, and Political Yahoos (August 2022). This month the Sportstar (thehindu.com) stories were mostly about the National Chess Championships of India. 'Telangana Today' is another Indian source reporting on events from the Indian subcontinent.
Getting back to the surprises, three more hijab reports appeared after the special lead section, making 12 stories total from 12 different sources. Not a single one of these stories was from a chess news site. In fact, before preparing this post, I hadn't seen the story reported anywhere.
The source for one of the 12 stories was listed by Google News as '??????', meaning that a foreign character set did not survive my Yahoo filters. The original story was:-
This is not the first hijab incident picked up for this series of Yahoo posts. Use the search box in the right column to see previous stories. Does that explain why the chess news sites have not reported the story -- too strong on deja vu?
There are a few more stories that I would like to mention, but I'm running out of time for this post. If I find more time, I'll continue later just like I did last month for Disappearing Yahoos (November 2022).
[Yahoos (mainstream news stories about chess) are derived from Google News top-100 (or so) stories from the past month.]
***
Later: Of last month's several 'Disappearing Yahoos', one reappeared:-
That last story was a minor dark spot in a fabulous month for Chess.com. Consider the following:-
For previous posts on my blogs concerning much of the above, see:-
Finally, there's one more story that fits in well with the year-end holidays, Christmas in particular:-
Tani Adewumi has appeared several times in the Yahoo series. The first mention was March Yahoos -- A Viral Story (March 2019). As a Christmas gift, I received a copy of his book 'My Name Is Tani...and I Believe in Miracles'. I don't often review books on this blog, but I'm going to make an exception here.