Last month's Flickr favorite, Catsparov Chess (February 2023), confirmed a trend:-
Am I just a sucker for AI generated chess images? It appears I am.
And here we go again, even when dealing with an historical absurdity on multiple counts...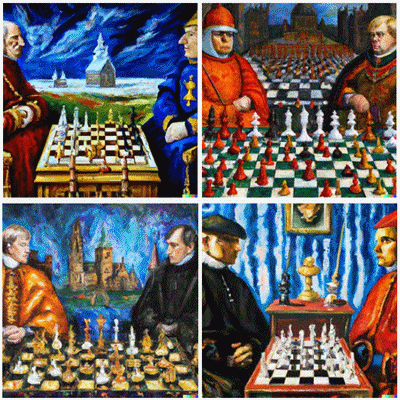 Upper left: DALL-E 2023-03-10 21.34.47 © Flickr user fdecomite under Creative Commons.
The description, which was a continuation of that cryptic title, said,
Karpov vs Kasparov play chess for the World Championship in Iceland, oil painting in the style of brothers van Eyck.
Wikipedia's page Jan van Eyck (wikipedia.org; 'before 1390 – 1441, was a painter active in Bruges [now Flemish Belgium]') informs,
He had a sister Margareta, and at least two brothers, Hubert (died 1426), with whom he probably served his apprenticeship and Lambert (active between 1431 and 1442), both also painters, but the order of their births has not been established.
If 'Flickr user fdecomite' rings a bell, then you have an excellent memory. I featured his/her work in two previous Flickr posts, of which the last was Chess Needle (January 2009).