This month's Yahoos post has a schizophrenic foundation, in multiple senses of the word. Which word? Take your pick. (See also the footnote for an explanation of Yahoos.)
Unlike every previous Yahoo post on this blog -- e.g. last month's First Yahoos of 2023 (January 2023) -- the summary of top Yahoos in February was constructed from data on two different days. That deserves an explanation.
I started writing this post using the data shown in the left half of the chart. On that day, at that time, Google News returned 99 stories, of which five were from the previous month, January. All five stories were also returned for the list behind January's 'First Yahoos of 2023'. There was nothing earlier. Then I realized that only 28 days had passed since the January post. Since Google generally returns stories covering the past 30 days, I had some overlap with the previous post. I decided to wait two days and rewrite the post.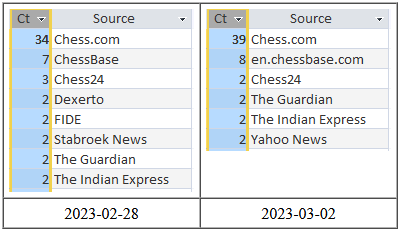 The data shown in the right half of the chart is from the second attempt writing this current post. This time Google returned 101 stories. Six news sources accounted for two or more stories, with a total of 55 stories among them. Since there were no stories from before February to be excluded, that left 46 sources with a single story.
Starting more than a year ago, Google has consistently returned a small selection of stories that are more than a month old. I documented this in Old Yahoos Don't Always Die (February 2022). In February 2023, the 'Old Yahoos' were gone. Will this continue next month?
Having two sources of data revealed some new aspects of Google News inner workings. Only two days later, three news sources have disappeared from the chart on the left, the earlier source of data. The two different lists also allow an analysis of how stories age under Google's selection algorithm, an idea too intricate for this current post. It's also worth noting how ChessBase is coded differently -- 'ChessBase' on the left, 'en.chessbase.com' on the right.
Around the middle of last year I started to wonder if Google News uses some sort of paid placement for news stories. I won't go into the details here, but in some months, the Yahoos exhibited peculiar behavior. This month I noticed a message that I had never seen before. It appeared before the list of Google's results:-
How these stories are ranked • These news articles are ranked based on their quality, originality of content, freshness of content, and where permitted based on your settings, your previous activity and purchases within Google News, and activity in other Google products. Google may have a license agreement with some of these publishers, but it has no impact on the ranking of results. • Learn more...
The phrase 'no impact on the ranking of results' says nothing about the number of results from a specific news source, a 'publisher' in Google's vocabulary. The link behind 'Learn more...' led to Google News consumer information - Google News Help (support.google.com). I'll try to come back to this topic in another post, but first I have to look at some of the news stories flagged by Google. That is, after all, the purpose of the Yahoo series. Watch this space...
[Yahoos (mainstream news stories about chess) are derived from Google News top-100 (or so) stories from the past month.]
***
Later: Re 'three news sources have disappeared from the chart on the left', none of the stories published by those sources was particularly compelling, so no need to take that thought any further. One new source appeared on the right: 'Yahoo News'. In fact, the real Yahoo accounted for three different stories. The first was:-
2023-03-01: Russian chess stars quit Europe for Asia in 'historic' move (sports.yahoo.com; Independent; Reuters) • 'Chess powerhouse Russia has joined the Asian Chess Federation following an ACF vote that allows Russian players to keep competing at an international level despite the war in Ukraine and the sanctions that it has prompted.'
There were a handful of stories on the same topic from other sources, making the federation transfer the news story of the month. I already covered it on my World Championship blog in Zone 1.6 (Russia) Becomes Zone 3.8 (March 2023), and will probably continue to follow it there. Two other Yahoo stories returned by Google News were:-
The first story 'speaks for itself', to use a chess cliché popular in recent months. The second story was echoed by another handful of stories with titles like 'Chess.com Hits #1 in iOS App Store' (chess.com) and 'Server Trouble and the End of Mittens?' (ditto).
Of the other stories worth mentioning, one appeared four times. I'll reference its original version:-
The lead sentence started, 'Here's something else chess players need to keep in check...'. (Groan, cough, cough.)