Another month means another look at U.S. chess 50 and 25 years ago. The tags for last month's post, February 1973 & 1998 'On the Cover' (February 2023) -- 'Books/Mags, Photos, USchess, WCC' -- apply equally well to this month.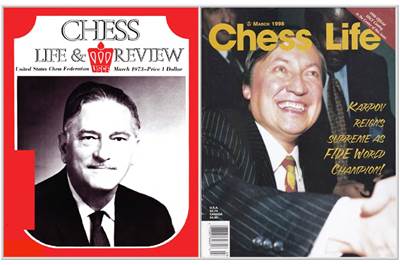 Left: '?'
Right: 'Karpov Reigns Supreme as FIDE World Champion!'
Chess Life & Review (50 Years Ago)
I. A. (Al) Horowitz, who died in January. Tributes to this irreplaceable man begin [inside]. Photo courtesy of New York Times [NYT].
The tributes started with five pages headed,
FAREWELL TO A LEGEND
I. A. Horowitz
November 15, 1907 — January 18, 1973


The first tribute was by USCF Executive Director Ed Edmondson. It started,
The 1930's were glorious years for USA chess. Young masters were on the rise; they played exciting, stimulating games in tournaments such as the U.S. Open and the U.S. Championship; our teams swept to victory in four consecutive Chess Olympiads; and, in 1933, a great new American chess magazine was born.

It was a time for living legends. Just look at our line-up in the Chess Olympiad (World Team Championship), Stockholm 1937: Reshevsky, Fine, Kashdan, Marshall, and Horowitz. Giants, every one. But to me, a high school student then just beginning to explore the delights of tournament chess, none loomed larger than I. A. (Al) Horowitz. He was everywhere -- at the Olympiads, the U.S. Opens, the U.S. Championships; crisscrossing the nation (with occasional stops in my home town of Rochester) on one simultaneous exhibition tour after another; and coming into my home every month as editor of CHESS REVIEW.
Other tributes were by GMs William Lombardy, Isaac Kashdan, and Arnold Denker; CL&R's Jack Straley Battell and Burt Hochberg; and the NYT's John Devlin. The first photo showed Horowitz playing Petrosian in the USSR-USA match, Moscow 1955.
Chess Life (25 Years Ago)
The issue's introduction, titled 'On the Cover' of course, was a natural continuation of the intro to the February 1998 issue of CL, copied verbatim in last month's post. See that post for links to the WCC events mentioned below.
Elizabeth Karnazes shot the cover photo of Anatoly Karpov just after he successfully defended his FIDE World Championship title in Lausanne, Switzerland.

Karpov will be appearing at the National Open in Las Vegas, March 28-29, to give a 30-board simultaneous exhibition. If you can get to Las Vegas a day early, organizer Al Losoff will be auctioning off one board to the highest bidder. Details [inside].

The rumor mills are working overtime. It is rumored that Garry Kasparov will finally defend his PCA World Championship title in the closing months of 1998. The challenger will come from a group of grandmasters selected by Kasparov. Karpov will not be invited. So much for a unification match.

And FIDE President Kirsan Ilyumzhinov has announced plans to make the knockout world championship an annual affair. Las Vegas is high on the list of possible sites for 1998.
Every one of those paragraphs would make a good start for a follow-up post, but there is only so much time for chess.