We interrupt this series on 'Cheating @ Chess.com' to follow an important detour. The Chess.com series was previously seen in Cheating for all Ages (March 2023), where I wrote,
I'll start with a summary of past posts on this blog that dealt with various aspects of cheating. Posts marked '(*)' featured Chess.com.
Why take a detour when I was just getting started? I realized this week that the 2023 Nepomniachtchi - Ding Liren Title Match (m-w.com; FIDE: 'due to take place in Astana, Kazakhstan, from April 7th to May 1st'), starts in less than a month. In past matches I've used a few posts to learn something about World Champion Carlsen's challenger for a particular match. Because of Carlsen's withdrawal from the cycle, in this match both players are taking the role of challenger. Here are a few earlier posts that give the background to this unusual situation:-
GM Nepomniachtchi was Carlsen's challenger in the previous title match, 2021 Carlsen - Nepomniachtchi (m-w.com; Dubai, XI-XII, 2021). In the months before the match, I created a series of posts about his career:-
The post titled 'Nepo at the World Cup' included a 'chart adapted from one of my pages [that] shows the World Championship events in which GM Nepomniachtchi has so far participated'. For this current post I did the same for Ding Liren. The codes in red delineate the different cycles.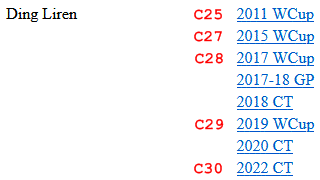 Index of players (A-G), with links to the different events
Both Nepomniachtchi and Ding Liren began their climb to the World Championship in the same event, the 2011 World Cup; Khanty-Mansiysk, Russia. Nepo qualified from the 2010 European Championship, where he finished first, and was eliminated in the third round of the World Cup by Gata Kamsky. Ding, who is two years younger than Nepo, was a nominee of then FIDE President Kirsan Ilyumzhinov and was eliminated in the first round by Wesley So.