We often see autographs in this ongoing series on Top eBay Chess Items by Price (March 2010), but I can't remember an item where we saw three autographs for each player in a tournament. Titled 'Extremely rare!! Portorose 1958 tournament full set; autographs all chess players, Portorose Yugoslavia', the auction consisted of a half-dozen items, including a signed program and two signed cards.
The full package listed for US $4000 and sold for something between $2000 and $2600, 'Best offer accepted'. To illustrate the auction, I'm featuring the front of a postcard, because it is more visually interesting than the signatures on the back of the card.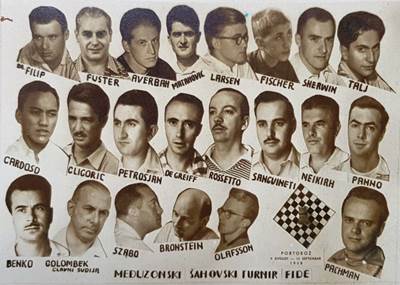 The description said,
This is an extremely rare, probably unique lot of chess related historical memorabilia of museum quality. The lot includes the program of the tournament, a postcard of the tournament with all the players pictured, and the official tournament envelope with all the signatures. These items are all fully signed! Even the judges are signed!

A "tourist info" brochure on Portorose - Yugoslavia and two other leaflets comes with the lot. All this was purchased from the same owner who attended the tournament as a visitor.
I compared the names in the program against my page on the 1958 Portoroz Interzonal Tournament, which lists 21 players. The program had 20 photos of players over their autographs, plus Golombek & Vukovic. Benko was missing completely. All players plus Golombek are pictured on the postcard above. This auction complements a previous post for 'Top eBay Chess Items', 1959 Yugoslavia Candidates (December 2017):-
Titled 'Chess book signed by eight masters, incl. Fischer, Keres, Petrosian, Smyslov and Tal', it sold for around $1500, 'Best offer accepted'.
Tal won the Interzonal, won the Candidates, and went on to snatch the World Champion title from Botvinnik. That's Tal ('Talj') in the upper right corner of the postcard.