In the previous Featured Flickr Photo post, 2018 Carlsen - Caruana Venue (November 2018), I wondered,
Was last month's 'Chess and Cubofuturism' (October 2018) the last post in this blog's long running Flickr series?
and then used a composite image that came from a Google search. This month I found a few Flickr photos that were worth considering, so I granted a one month reprieve to the series.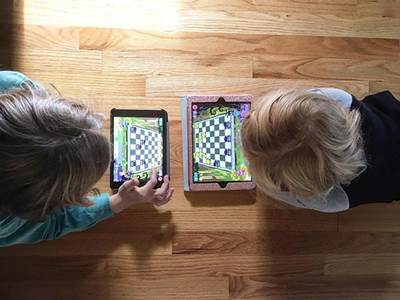 Modern era chess © Flickr user clarkmaxwell under Creative Commons.
The description said,
Why would you go pull out one of the 5+ "real" chess sets we have?!? Just play each other WiFi.
The tag said '#overtheirshoulderseries'. I say, 'Maybe this is the best way to get little girls to play chess'.