Here we are 'wrapping up' another year of covers from American chess magazines 50 years ago. Last year, in December 1967 'On the Cover' (OTC; CR featuring 'Manhattan Chess Club President Jacques Coe'), we were spared the funky green cover seen in December 1966 OTC -- not to mention previous Decembers -- but this year the tradition returns.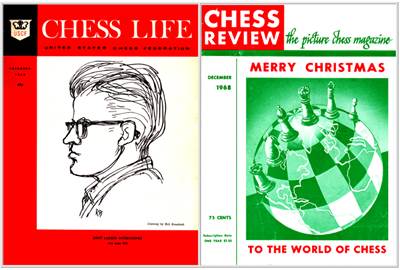 Left: 'Bent Larsen Interviewed' (Drawing by Bob Brandreth)
Right: 'Merry Christmas ... to the World of Chess'
Chess Life
The year 1968 was the year of Bent Larsen. Two months ago, in October 1968 OTC, he was featured on both covers, and this month he returns. I've already excerpted a big chunk of the interview ('The Larsen Opinion : An Interview with Bent Larsen' by Ben Crane) in a post on my World Chess Championship blog, An Organization of Amateurs (April 2017). Here I'll add the introduction.
Crane: You have recently become a "chess professional." Most masters, however, have found that they need another line of work to supplement their income. What factors led you to this decision?

Larsen: I don't know whether you can say I've become a chess professional recently. I have made a living as a chess player since I left high school when I was seventeen. But it was only about four or five years ago that it became a real profession, because before that I was just living as a modest student. It has not been a decision that I have taken suddenly, I just drifted into it. Now it appears that is very possible in Denmark to make a living from chess playing, chess writing, and sometimes on radio and TV. Of course it is better when you are winning money prizes than when you don't do well, but I think theoretically it would be possible for me to make a living as a chess player without playing at all -- just writing, giving exhibitions, and so on.
Chess Review
After the green cover, there was little inside CR about Christmas. The 'Announce the Mate!' puzzle page had a Christmas-y title to a non-Christmas-y poem.
MERRY CHRISTMATES!
The outlook is not brilliant for your chessic foes today.
The score stands 0-0, but they really have no play.
So on the gloomy cross-board foe glum melancholy sits
As it seems but little like you'll miss on any hits.
Your move precedes their turn and calls on you to mate.
So smite them hip and thigh to send 'em to their fate.
And rack up a good score on the old sockdolager slate.

Poems of a similar style introduced each of the ten puzzles on the page.