The previous post, Spectating the 89th FIDE Congress, was a roadmap to further reporting on the current state of FIDE commissions. I ended it with a problem to solve:-
The first challenge is that a number of commissions have changed names or have morphed into something else. I'm still trying to figure out exactly what has happened and will report on the various changes in future posts as I address specific topics.
First I compared a recent list of commissions on Archive.org (from the beginning of November 2018) against the current list on the FIDE site:-
The following table shows what I found. It starts with a list of 15 commissions that have survived intact. The names of commissions marked 'OLD' have disappeared and the names marked 'NEW' were not listed previously.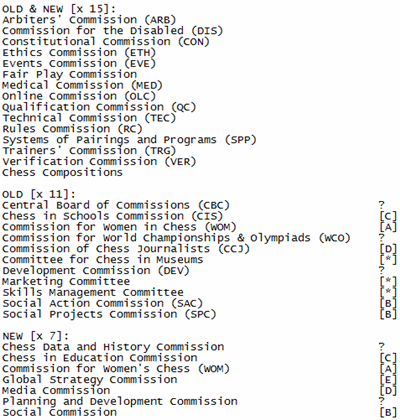 The rightmost column has a few notes that are explained thusly:-
[A,C,D?] Name change
[B] Merged?
[E] GSC
[*] Committees (status unknown)
Commissions marked '?' indicate that I haven't been able to determine their status. The most significant evolution so far is the GSC. A recent FIDE announcement, List of Decisions of Q4 2018 Presidential Board ('8-10 November 2018; London, UK'), mentions,
Q4PB-2018/22 To create the Global Strategy Commission and to acknowledge the FIDE President's decision to appoint Mr. Emil Sutovsky as chairman.
Another recent document, Rules for the FIDE Open World Rapid Championship & FIDE Open World Blitz Championship; December 25th – 31st 2018 (PDF), mentions,
1.2. FIDE Global Strategy Commission (hereinafter referred to as GSC) is in charge for preparing regulations, communicating with the Organizer and the participants.

1.3. The body responsible for adopting and changing these Regulations is the FIDE Presidential Board, upon recommendation by GSC.

[more++]
While this little analysis closes a few questions about the current status of FIDE Commissions, it opens many more. I'll address those as I tackle the 'Spectating' roadmap.