Today I received my ballot for the 2020 USChess Executive Board election. The cover letter said,
Dear US Chess Voting Member,

Below is your ballot to elect three individuals to the US Chess Executive Board. The names on the ballot are listed in an order determined by a random drawing. All candidates are running for at-large positions on the US Chess Executive Board, not for any specific office. If you wish to vote for someone who is not listed, you may indicate write-in choices. Write-ins must be current US Chess members. No employee of US Chess is eligible to be a member of the Executive Board.
For the record, I copied the attached ballot to the following image...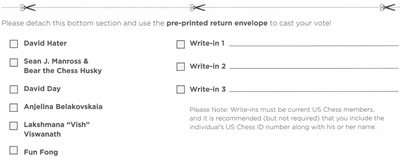 ...on which the names of the six candidates are:-
David Hater
Sean J. Manross & Bear the Chess Husky
David Day
Anjelina Belakovskaia
Lakshmana "Vish" Viswanath
Fun Fong
It's been two years since I last voted, as recorded in 2018 USChess Executive Board Election (June 2018). In 2019 there were two candidates for two positions, so why waste a postage stamp?
Since I'm not familiar with all six of the 2020 candidates, I have some research to do. I haven't been particularly impressed with the direction the U.S. federation has taken the last few years, but I can't put my finger on the reason. This looks like the right time to figure out why I'm having doubts.