What was happening in the chess world 50 and 25 years ago? In 1970, CL&R featured the winner of a national tournament for the third straight month. You might never guess that the first nine pages of the June 1970 issue covered 'The Match of the Century', which in 1970 meant the USSR versus the 'Rest of the World'.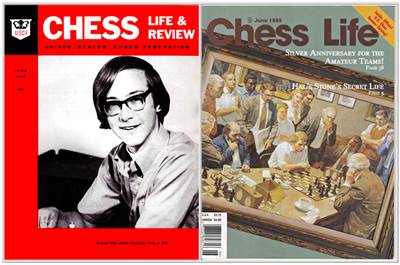 Left: 'National High School Champion'
Right: 'Silver Anniversary for the Amateur Teams; Hal Stone's Secret Life'
Chess Life & Review (50 Years Ago)
The Second Annual National High School Championship, played April 3-5 at the McAlpin Hotel in New York, was by far the largest rated tournament ever held in the U.S. 552 students from 26 states, D.C., and Puerto Rico competed -- an increase of about 50% over last year's turnout of 370. With the Continental Intercollegiate drawing 157 additional players, a grand total of 709 were playing concurrently at the same location, a figure that smashes the previous high for rated events, 492 players at the 1969-70 Greater New York Chess Congress.
We saw the first National High School Championship a year ago in May 1969 'On the Cover'. Robert Newbold, the winner of the 1970 event, was also featured in Early U.S. High School Championships (May 2017), where I found a mention of him in 1977.
Chess Life (25 Years Ago)
Hal Stone. 1911-1994, enjoyed a 30 year relationship with the New York Daily News as an illustrator. His historical works, commissioned by the government, are on permanent display at the U.S. Army War College in Washington, D.C. At the time of his death, he was putting the finishing touches on a mural at the Mount Kisco Hebrew Congregation, depicting the entire history of the Jewish people from biblical times to the creation of the State of Israel.

Hal Stone was the professional name for Harry Smilkstein, whose oil painting "White to Play and Win" graces our cover. Harry, as a life-long chess enthusiast, was one of the founders of the Max Pavey Chess Club back in 1954.
The rest of the Hal Stone story is available online. Follow the instructions in US Chess CL Archive (November 2019) to find the June 1995 issue.