For this month's Flickr favorite, the darkness of the photo detracted so much from its aesthetic value that I spent some time trying to improve it. The best I could do was the example on the right, which is simply the photographic negative of the original on the left.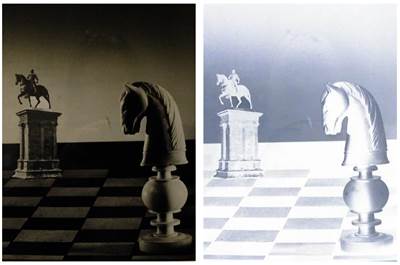 Chess - Untitled (Cavalier) c.1936 © Flickr user B under Creative Commons.
The description of the photo starts,
Dora Maar (November 2019 – March 2020) • During the 1930s, Dora Maar's provocative photomontages became celebrated icons of surrealism.
A web search on that first sentence returns the page Dora Maar – Exhibition at Tate Modern (tate.org.uk), which explains that the date range after her name was the period of the Tate exhibition. Her Wikipedia page, Dora Maar, starts by giving her real name and life span:-
Henriette Theodora Markovitch (22 November 1907 – 16 July 1997), known as Dora Maar, was a French photographer, painter, and poet
The Tate page goes on to say,
Her relationship with Pablo Picasso had a profound effect on both their careers. She documented the creation of his most political work, Guernica 1937. He painted her many times, including Weeping Woman 1937. Together they made a series of portraits combining experimental photographic and printmaking techniques.
For Picasso's painting of her, see The Weeping Woman, 1937 (pablopicasso.org). Its description starts,
The Weeping Woman series is regarded as a thematic continuation of the tragedy depicted in Picasso's epic painting Guernica.
The reference to Guernica includes a link to the page for 'Picasso's most famous work'.