In the ongoing series about Top eBay Chess Items by Price (March 2010), tournament programs signed by the participants appear frequently. As far as I can remember this is the first program for a top women's event.
The item pictured below was titled 'Chess Programme Signed by Participants World Chess Championship Women Interzonal'. It sold for US $790, 'Best offer accepted'.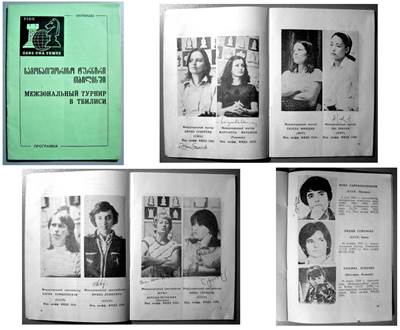 Top row: Savereide, Muresan (1st in tournament), Fischdick, Liu Shelan (3rd); Bottom row [1st image:] Akhmilovskaya, Levitina (2nd), Veroci-Petronic, Gurieli; [2nd image:] Gaprindashvili, Semenova, Lematchko.
The description said,
Chess programme signed by 12 participants plus Chiburdanidze and Gaprindashvili. • World Chess Championship (Women); 1982 Tbilisi Interzonal Tournament. • Size approx: 145 x 200 mm (5.7" x 7.9") • From the personal collection of Grandmaster E. Ubilava. • Condition is good.
The description also listed the names of the 14 players who signed the program, although all 15 Interzonal participants were pictured. I've shown only two of the four double pages that had photos of the participants, including the three top finishers.
Some of the info in the description, like the spelling of names, appears to have been taken from my page 1982 Tbilisi Interzonal Tournament. The three photos in the bottom row, second image, were the top finishers of the earlier 1982 Bad Kissingen Interzonal Tournament.
The three top finishers from the two Interzonals were seeded into the 1983-84 Candidates Matches. They were joined by Ioseliani, the runner-up in the 1980-81 Candidates Matches, and Alexandria, the loser (by a tied score) of the 1981 Chiburdanidze - Alexandria Title Match.
The quarterfinal round of the 1983-84 Candidates Matches saw only three matches. Lematchko didn't play and Alexandria started with a semifinal match. That circumstance deserves a mention and an explanation on the 1983-84 CM page.