'Yahoos' is ('Yahoos' are?) the code word on this blog for chess in the mainstream press. Since the beginning of the year I've been summarizing the results of a month's worth of Google News, last seen in The Yahoos' Database Flags Cheating (March 2021).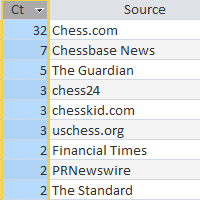 The summary starts with a small chart like the one shown on the left. It shows all sources that had at least two stories reported by Google News. In April, I counted 101 stories from 51 sources, of which nine sources had more than two stories.
Just as in the three previous months, Chess.com topped the list -- this time with more stories than the next eight sources combined. Of their 32 stories, exactly 1/4 were about the recently concluded Candidates tournament. See yesterday's post on my World Chess Championship Blog, Yekaterinburg Candidates - Fourth Week, (April 2021; WCCB) for round-by-round reporting from Chess.com.
Number two on the list, Chessbase News, also figured in my WCCB post. Of the seven stories from that source, I expected to see a number of reports on the Candidates. There was only a single report, a peripheral story about Wang Hao's retirement after the event ended.
Number three, The Guardian, is the best showing I've seen by a non-chess source. Three of their five stories were by the incomparable Leonard Barden, perhaps the greatest chess journalist of all time:-
When I saw the first headline ('Guildford meet match in Euro Club Cup'), I thought it was a football/soccer report using a chess metaphor. After reading further, I finally understood:-
Guildford's grandmaster quintet, led by the UK's No 1, Michael Adams, were effectively England under a different name, plus a Bulgarian reserve.
As for the two non-Barden Guardian stories, they were in effect non-chess stories. Where the first headline says 'mental chess', read 'blindfold chess':-
The last source in my chart, The Standard, isn't immediately identifiable, unlike the other sources. It turns out it's the 'Standard Group PLC', aka standardmedia.co.ke operating out of Kenya. The two stories are both classified as 'Sports / Unique-sports'. I like that on all counts.