I introduced last month's post, March 1971 & 1996 'On the Cover' (March 2021), saying, 'The spotlight returns to U.S. chess.' This month the underlying theme is art, both written and visual.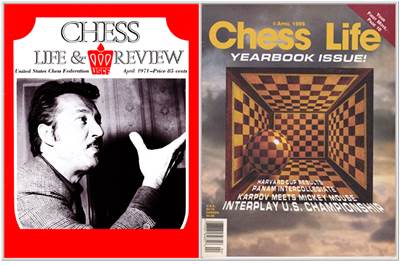 Left: ?
Right: 'Yearbook Issue; Harvard Cup Results; PanAm Intercollegiate; Karpov Meets Mickey Mouse; Interplay U.S. Championship'
Chess Life & Review (50 Years Ago)
Yugoslavia's No. 1 player, Grandmaster Svetozar Gligoric, who has been touring the U. S. during March and April. See Miro Radojcic's affectionate tribute to his friend in "Observation Point". Photo by Milos Petronic, Belgrade.
The following excerpt gives a feeling for the tone of Radojcic's two page essay.
At Peace With Himself • I thought his trip to the United States would be a good occasion to write about him. Then suddenly I discovered how difficult it is to write about one's friend. The first thing that comes to mind is some kind of platitude -- "He's a very nice guy." But the trouble is that he -- Svetozar Gligoric, or Gliga as we always call him -- really is a nice guy. So nice in fact that exactly for this reason, in days gone by, he often got on my nerves. [...]

I believe that whatever his merits and short-comings he holds a record unique in contemporary chess: for about a quarter of a century he has been Number One in his country. This is certainly no mean achievement, Yugoslavia being one of the three strongest powers in the chess world. I really wonder whether there is a player on this earth who has played in more tournaments throughout these years, ever since he first came to fame as an unknown 22-year-old, when he was invited in 1947 to play in a strong Moscow tournament, winning it rather sensationally two full points ahead of the big favorites Smyslov and Boleslavsky.
Gliga's photographer, IA Milos Petronic, was the father of IM Jovan Petronic. See Chess Photo Album 1972 by Milos Petronic (youtube.com) for more photos.
Chess Life (25 Years Ago)
"'Enter the Arena' is one of a series of chess designs which I created on a Macintosh, using Adobe Photoshop. For this piece -- which is meant to express the truly compelling nature of chess -- a photo of a chess board was scanned and brought into Photoshop. I then worked on the colors to make them as deep and as rich as I could, and that one board, distorted, and that one board, distorted in various ways, became the basic elements that make up the design." -- Phil Lipsky

And we Enter the Arena of competitive chess this month with our Yearbook issue, highlighting the achievements of all of our national champions, and their predecessors.

Phil Lipsky is a freelance graphic designer who also teaches computer design (Photoshop). He is based in New York City and for the past five years, created designs and promotional pieces for his own clients, as well as doing on-site work for design firms and ad agencies. Phil sums it up quite nicely: "The combinations of creativity and intellect, imagination and logic, necessary in both chess and computer design, is what makes both so exciting and enjoyable for me."
The five topics listed on the 1996 CL cover could each be featured in a separate post. A few years ago I covered one of them in Karpov at Disney (October 2015). That post mentioned five Karpov/Disney events. The article in the April 1996 CL, written by Belgian francophone Luc Winants (then an IM, now a GM), and including an interview with Karpov, covered the December 1995 event.