They stare at the chess board for an eternity, never blinking, never showing emotion. Chess players? No, chess playing statues. The last time we saw a statue on this blog was Observing a Game in the District (January 2021), where more can be found by following the links.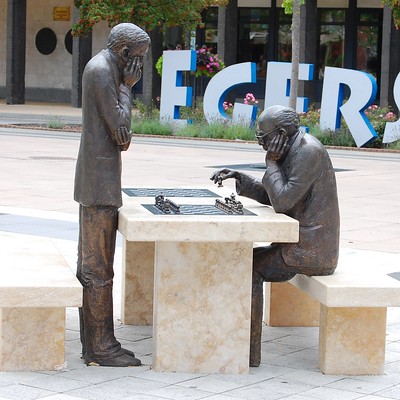 Nf3, Probably a Zukertort Opening © Flickr user Istvan under Creative Commons.
The description of the photo said,
Chess Players, a statue erected at Zalaegerszeg in 2016, a work by Peter Szabolcs. • Johannes Zukertort (1842-1888) was a Polish-German-British chess master.
That's enough information to locate the statue in Dísz square (e-city.hu), where we learn,
Although Deak Square used to be the centre of our historic inner city, the modern town's centre is Dísz Square, which is not only a beloved meeting point, but also one of the venues for major municipal events. [...] In the north-western corner you can find the 'Chess players' by Peter Szabolcs, referring to the successful chess history of the city.'
I'm interested in chess history so I'll bite: why 'successful'? I had to go no further than the Wikipedia page, Zalaegerszeg ('In 2001, Zalaegerszeg had 61,654 inhabitants'):-
Notable people: [...] Lajos Portisch (1937-), chess player
The great Hungarian grandmaster, who was a World Championship Candidate eight times, twice reaching the semifinal stage in the old system of knockout matches, was born in Zalaegerszeg in 1937. For more about his career, see The chess games of Lajos Portisch (chessgames.com), where we learn that he often played 1.Nf3.