Category: Top eBay Chess Items by Price (March 2010); Subcategory: Art; Genre: Impressionism. This is diametrically opposed (*) to the genre in the previous 'Subcategory: Art', which was 'Gothic Fantasy Surrealism' in Classical Does Not Apply (September 2021).
The item pictured below was titled 'Vintage Alex Saval Impressionistic Oil On Canvas Doctor & Lady Playing Chess'. It sold for US $696.50, 'Best offer accepted', and carried a note, 'Was: US $995.00, save 30%'. An eBay info icon explained the 'Was' price:-
(Q:) What does this price mean? (A:) Recent sales price provided by the seller
It didn't explain how one-of-a-kind artwork could have a recent sales price or how the best offer could match the discount to the penny. There's something missing.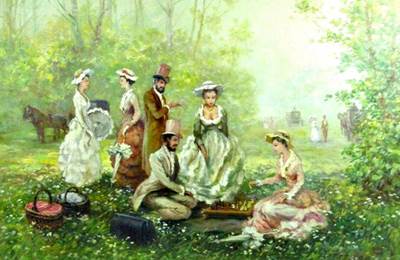 The description expanded the title:-
Alex Saval original oil on canvas with an early 20th Century Victorian gathering scene of presumably a doctor playing chess with a lady. Painting measures approx. 36 x 24 inches without frame and 43 x 31 inches with frame. Excellent condition ready to hang and enjoy.
That does indeed look like a doctor's bag next to the gentleman playing chess. A capsule biography of the artist, found on a number of art seller sites, says,
Alex Saval was born in Orastie, Romania in 1929. He studied at the Art Academy of Bucharest from 1946 to 1953. His style was much inclined towards Impressionism and he travelled and studied widely in France. His works can be found in the Museum of Contemporary Art in Bucharest, amongst others, and in international private collections.
The same wooded area in the chess scene features in several of the artist's other works. None of the listings I looked at identified the setting.
(*) As in 50 Redundant Phrases to Avoid.