In last month's post on U.S. chess magazines from 50 and 25 years ago, January 1972 & 1997 'On the Cover' (January 2022), the underlying theme was art. This month it's American players.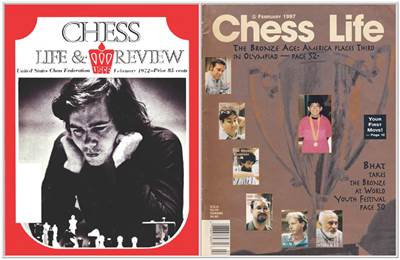 Left: '?'
Right: 'The Bronze Age: America Places Third in Olympiad • Bhat Takes the Bronze at World Youth Festival'
Chess Life & Review (50 Years Ago)
Grandmaster Walter Browne, in a photo taken at the U.S. Open in Ventura. Browne scored his first international tournament win in Venice. • Photo by Burt Hochberg.
The last time we saw GM Browne on the cover of CL&R, October 1971 & 1996 'On the Cover' (October 2021), was for the same U.S. Open in Ventura. The tournament report, '10th Venice International' by Walter Browne, started,
The very thought of playing in this tournament interested me. It was to be played in a casino, and since I had never been to Venice, I considered it a must. The moment I arrived at Milan from New York I felt an inner peace which is very good for chess. At the beginning of the tournament Kavalek told me that the winds from the sea would hurt our play. Of course I laughed.

But I cannot deny that I made some incredible oversights. In the first round, against Tatai, I allowed my opponent to equalize with Black very easily, but I had been up all night traveling. I came back by beating Zichichi and then Gligoric, who would not be content with an easy half point. [...]
Browne finished +7-1=3, a point ahead of 2nd place Mariotti. Kavalek finished 5th, Gligoric 7th.
Chess Life (25 Years Ago)
Third place was earned by the men's team at the 1996 Olympiad in Armenia, and third place was earned by Vinay Bhat in the Boy's Under-12 section of the World Youth Chess Festival for Peace, held in Spain, thus making 1996 the Age of Bronze for the United States. U.S. Champion Alex Yermolinsky earned a silver medal on Board Two at the Olympiad. • Photos by Bill Hook, Richard Peterson and [the] Bhat Family.
GM Yermolinsky is pictured in the top photo on the left, followed by GMs Christiansen, Kaidanov, Benjamin, De Firmian, and Gulko. Russia and Ukraine placed 1st and 2nd at the 1996 Olympiad.
A group photo of the U.S. team at the 1996 World Youth Festival identified 15 members of the team:-
Noah Siegal, Dmitry Schneider, Jennifer Shahade, Jeremy Silman (*), Irina Krush, Jennifer Frenldalkh [sic, 'Frenklakh'], Vinay Bhat, Courtney Olsen, Auka [sic, 'Asuka'] Nakamura, Pal Benko (*), Eric Schiller (*), Igor Shliperman, Tal Shaked, Eugene Perelshteyn, and Rafael Klovsky (*).
I've marked the coaches with '(*)'. Several of the players are still active today. Asuka Nakamura (b.1986) is the older brother of GM Hikaru Nakamura (b.1987).