For this 12th anniversary edition of Top eBay Chess Items by Price (March 2010), I decided to feature a chess set. The last time I did this was Marquetry and Pyrography (December 2020), which linked to the previous post and so on and so forth.
The item pictured below, titled 'Soviet Porcelain Chess Set: The tree of life. Dulevo Factory, 1988', sold for US $2000, 'Buy It Now'. Apologies if you came here to see the set, but it's not the reason for this post.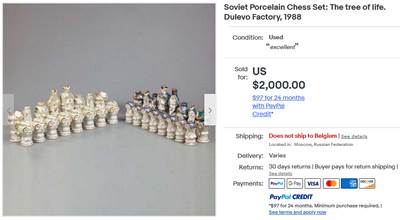 The description said,
The chess set is the "Tree of Life" performed by master farforist M. M. Obrubov on Dulevo porcelain factory in 1988, the Author studied at the Abramtsevo art-industrial school im. V. M. Vasnetsov, graduated from courses for artists in porcelain at LVHU. V. I. Mukhina. Since 1977 (with short breaks) he worked in the art laboratory of the Dulevo porcelain factory, was engaged in the design and manufacture of artistic samples for mass production and execution of author's products.

From 1992 to 2000 - Director of JSC "White lion". Participant of exhibitions since 1987. At the Dulevo factory was filled with three sets of chess: one was in the Museum Dulevo plant, and the other set was sold in Japan through a trading company "Karpov-Center", and the third is placed on our auction.
If I were featuring the set in this post I would investigate what 'farforist' means and try to make sense out of the second paragraph, last sentence. That's also not the reason for this post.
The reason for the post is the section under the price. It says,
Shipping: Does not ship to Belgium | See details. Located in: Moscow, Russian Federation
Is there any connection between my location (Belgium) and the seller's location (Russia)? Indeed there is. All current items from the same seller have the same 'Shipping' info. The mention 'See details' expands to:-
Shipping to: Worldwide • Excludes: Aruba, Afghanistan, Angola, Anguilla, Albania, Andorra, Netherlands Antilles, United Arab Emirates, Argentina, Armenia, American Samoa, Antigua and Barbuda, Australia, Austria, Azerbaijan Republic, Burundi, Belgium, Benin, Burkina Faso, Bangladesh, Bulgaria, Bahrain, Bahamas, Bosnia and Herzegovina, Belarus, Belize, Bermuda, Bolivia, Brazil, Barbados, Brunei Darussalam, Bhutan, Botswana, Central African Republic, Canada, Switzerland, Chile, China, Côte d'Ivoire (Ivory Coast), Cameroon, Congo, Democratic Republic of the, Congo, Republic of the, Cook Islands, Colombia, Comoros, Cape Verde Islands, Costa Rica, Cayman Islands, Cyprus, Czech Republic, Germany, Djibouti, Dominica, Denmark, Dominican Republic, Algeria, Ecuador, Egypt, Eritrea, Western Sahara, Spain, Estonia, Ethiopia, Finland, Fiji, Falkland Islands (Islas Malvinas), France, Micronesia, Gabon Republic, United Kingdom, Georgia, Guernsey, Ghana, Gibraltar, Guinea, Guadeloupe, Gambia, Guinea-Bissau, Equatorial Guinea, Greece, Grenada, Greenland, Guatemala, French Guiana, Guam, Guyana, Hong Kong, Honduras, Croatia, Republic of, Haiti, Hungary, Indonesia, India, Ireland, Iraq, Iceland, Israel, Italy, Jamaica, Jersey, Jordan, Japan, Kazakhstan, Kenya, Kyrgyzstan, Cambodia, Kiribati, Saint Kitts-Nevis, Korea, South, Kuwait, Laos, Lebanon, Liberia, Libya, Saint Lucia, Liechtenstein, Sri Lanka, Lesotho, Lithuania, Luxembourg, Latvia, Macau, Morocco, Monaco, Moldova, Madagascar, Maldives, Mexico, Marshall Islands, Macedonia, Mali, Malta, Montenegro, Mongolia, Mozambique, Mauritania, Montserrat, Martinique, Mauritius, Malawi, Malaysia, Mayotte, Namibia, New Caledonia, Niger, Nigeria, Nicaragua, Niue, Netherlands, Norway, Nepal, Nauru, New Zealand, Oman, Pakistan, Panama, Peru, Philippines, Palau, Papua New Guinea, Poland, Puerto Rico, Portugal, Paraguay, French Polynesia, Qatar, Reunion, Romania, Rwanda, Saudi Arabia, Senegal, Singapore, Saint Helena, Svalbard and Jan Mayen, Solomon Islands, Sierra Leone, El Salvador, San Marino, Somalia, Saint Pierre and Miquelon, Serbia, Suriname, Slovakia, Slovenia, Sweden, Swaziland, Seychelles, Turks and Caicos Islands, Chad, Togo, Thailand, Tajikistan, Turkmenistan, Tonga, Trinidad and Tobago, Tunisia, Turkey, Tuvalu, Taiwan, Tanzania, Uganda, Ukraine, Uruguay, United States, Uzbekistan, Vatican City State, Saint Vincent and the Grenadines, Venezuela, British Virgin Islands, Virgin Islands (U.S.), Vietnam, Vanuatu, Wallis and Futuna, Western Samoa, Yemen, South Africa, Zambia, Zimbabwe, Africa, Americas, Antarctic Region, Arctic Region, Asia, Australian Continent, Central America and Caribbean, European Union, Europe, Greater China, Middle East, North America, Oceania, APO/FPO, Rest of Asia, South America, Southeast Asia, Svalbard and Jan Mayen, Svalbard and Jan Mayen, French Polynesia
For the flip side of this, see Important updates to shipping to Ukraine and Russia (community.ebay.com; 25 February 2022): 'we are temporarily pausing sales to buyers with shipping addresses in Ukraine and Russia.' If you're reading this in the distant future or on a distant planet, see my previous post Yahoos of Madness, Yahoos of Tragedy (March 2022), and its mention of 'Russia's attack on Ukraine, which was launched on 24 February'.
When will eBay stop listings from sellers in Russia?